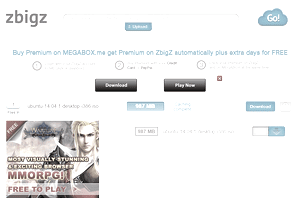 ZbigZ is a free torrent client that runs in a web browser, which means no software download is needed.
Though ZbigZ is ad supported, it lets you resume paused downloads and helps protect your privacy.
Pros:
No software download necessary
No registration required
No need to upload/share/seed any files
Personal account keeps your torrents in one place
Supports resumed downloads
Works with any web browser (even mobile ones)
Protects privacy with a hidden IP address
Can download files in bulk
Cons:
Ad supported
Torrents aren't cached unless you're actively using the website
Restricts download size and speed
How to Use ZbigZ
ZbigZ is a little different than a regular torrent client because it's not actual software. Here's a quick tutorial on how to use Zbigz.
On the main page, paste a torrent link, upload a .torrent file, or enter a magnet link into the text area and then click the Go! button. 
Click the large Free cloud icon to tell ZbigZ you're using a free account. ZbigZ will start caching the torrent so you can download the files. 
When finished, you'll see Caching complete. Click any of the files you wish to download by selecting the download arrow next to the file. You can optionally click .zip to grab all the torrent files in one swipe.
Click the Free icon once more to start the file download.
Note: If you choose the ZIP download option, you'll be required to wait for the files to be archived, which can take a while depending on the size of the files.
There's a supposed easier way to add torrents to ZbigZ by using the ZbigZ Chrome extension, but I wasn't able to get it working when I tried.
Limitations
ZbigZ users are restricted in numerous ways, which certainly separate it from a regular torrent client.
The maximum size of any torrent can only be 1 GB.
This means the sum of every file size that's in the torrent must be at or below 1 GB. Anything above will be rejected by ZbigZ.
Download speeds with ZbigZ cap out at 150 KB/s, which is much slower than with regular, downloadable torrent clients.
Free users can only download up to two torrents at the same time using ZbigZ, which, again, is a huge restriction you won't find in most other free torrent clients.
If you create a free account on ZbigZ, your torrent files will stay on your account for seven days. This means after you've added a torrent and it's ready for you to download the files, you have one week from that day before your files expire and are removed.
These restrictions are lifted if you pay for the premium version.
My Thoughts on ZbigZ
I have conflicting thoughts about ZbigZ, but I do find myself using it often.
I like that you don't need to download anything and all the torrents you add to your account are accessible from any browser. Also, you can choose to receive emails when torrents are cached, which is a nice feature for when you're away from your computer.
However, the awfully slow download speeds are extremely obvious. When you download any other file on the Internet, you are used to a regular speed, and ZbigZ is much slower.
Some ISPs throttle, or control, torrent traffic. ZbigZ isn't torrent traffic from your ISPs perspective, so because it runs like any other HTTP download, your ISP is less likely to limit it's bandwidth. So if your service provider is restricting your access to the BitTorrent network, an online torrent client like ZbigZ may actually be one of your only remaining options to download torrents.
Though the limitations I mentioned above are pretty extreme, ZbigZ is still valuable because it's entirely online and won't be controlled by most ISPs.