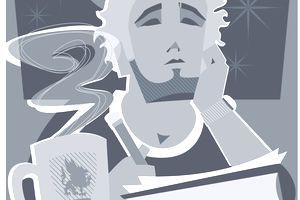 The following is a guest article by Julie Petersen. Her extensive experience in the custom writing industry makes her an ideal mentor for Freelance Writing readers who may be interested in this niche. See Julie's bio page for more information or to contact her. For those with moral objections to writing student essays for payment, please see the article "Getting Paid to Write Student Essays; Should Freelance Writers Do It?"
Many people are quick to judge people who rely on paper writing services without questioning why they are placing the orders and what they are getting from them. 
Since I've been part of the custom writing industry for almost two years, I feel the responsibility to share my experience and insights with freelance writers who are willing to try their luck at this market. I must warn you, though: some companies don't treat their writers that well. I went from one team to another before I found a few services I could stick with for several years, namely EssayMama and NinjaEssays. These were two that were most appropriate for my lifestyle at that time; your experience may vary. 
Here is the first thing you need to know: paper writing services include many types of custom writing work, such as resumes, cover letters, content, academic writing tasks, etc. They're not all student essays, although that is a big chunk of the work.
However, all custom writing service companies, like the two I mentioned above, do offer some similar benefits and parameters to the freelance writers they hire. So, let's take a look into the industry from the point of view of an established freelance writer. Hopefully, the insights I share will help you understand how the custom writing business works.
Custom Writing Services Are HUGE
The availability of this type of work alone sways many freelance writers to try out the industry. People from all over the world are relying on these websites to get their papers done. There are plenty of online writing services that are constantly hiring new writers. All you need to do is contact a service that maintains a good reputation on the market, ask what you have to ask and then start writing some papers (not to mention, get paid!). 
Make sure to choose a reputable, reliable service that has been present on the market for several years. Don't hesitate to leave the team if you notice that the revenues are coming late or you're getting less money than expected. There are many more players out there!
You Choose Your Work!
When a custom writing services company receives an order from the customer, it guarantees to assign it to the perfect writer for the particular topic and style. The term perfect means that the writer should know how to handle the subject and write the particular type of paper the customer requests.
That being said, custom writing companies never impose too much work if you can't deal with it. The writers apply to different orders, so they can practically choose what type of work they deal with.
If you feel like writing resumes, you can request such orders from the service you're working for. If, on the other hand, you do your best work when you face the greatest challenges, you can write as many research papers as you're capable of delivering. Basically, the ball is in your court when it comes to what kind of writing work you take on. Those who are squeamish about the prospect of writing college papers for rich kids can choose to work on other orders. 
No Client Contact
The paper writing service is a mediator between you and the client. A customer, who is willing to order content from the professional service, submits a brief order form that contains all needed instructions for the project. Then, the company delegates that form to the writer, who is expected to follow those guidelines and deliver the content on time.
You, as the freelance writer, never have to negotiate with the customer. 
The greatest advantage of this type of functioning is speed. You get your instructions in a single place, so you won't bother communicating with your client and answering multiple or unnecessary messages. There is a possible disadvantage though: misunderstandings. Most customers submit really scarce instructions that leave you questioning. Sometimes the writers miss the point, simply because they cannot read the minds of clients who don't bother explaining what they expect. In such case, you'll probably have to make some revisions. Overall, though, the process of dealing with the client is cut out of the equation, leaving you free to just write.
You Are the Boss of Your Schedule
When you accept an order, it will come with a deadline, which you must meet under any circumstance. The way you organize your time is up to you. Other than that, you can work at any time, as is the case with most freelance writing work. 
One of the greatest advantages of this job is the fact that you can work from anywhere. I could visit my parents for an entire week without putting the work on a break. When I was going through the most difficult time in my life, I took my laptop and spent a month writing in Prague. That's something you can't get from just any job.
You Choose the Schedule
You don't like working under pressure? Don't let deadlines scare you too much! Remember: you'll be choosing your own projects. If a particular paper seems too challenging to handle in such short period of time, you simply skip it and you look for another order to cover.
You Choose the Project
The versatility of orders is huge. The authors who work for custom writing services are working on resumes, cover letters, blog content, case studies, research papers, reviews and any other type of content you could possibly think of. If grammar is your forte, you can also take orders for editing or proofreading, as well as formatting of academic content.
Bottom line – you should go for those papers you feel comfortable with. If you're not ready or willing to do college-level research and papers, you can complete simple content writing, resumes or other projects. That being said, you should know that the payments will depend upon the level of difficulty of the tasks you complete.
The Custom Writing Industry Is a Solid Source of Work for Freelance Writers
This work has so much leeway and variety, so don't write it off simply from the standpoint of moral objection to college paper writing! There is so much more to custom writing services, and I've found it to be the exact type of job I needed at certain times in my career. Not only did it present me with new challenges and ready money when I needed it, it also gave me knowledge, experience, and skills as an author, something I won't soon forget!