Writing Contests: Express Your Creativity & Win Prizes!
Enter to Win Essay Contests, Poetry Contests, and Other Writing Contests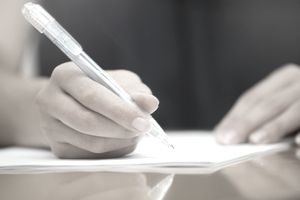 Writing contests are a great way to express your creativity while winning great prizes. Writing contests often have less competition than random-draw sweepstakes, so why not give them a try? This is a list of current creative writing contests to enter today.
If you'd like to win more contests, see tips to win essay contests and 10 qualities of great writing contest entries.
1. Booking.com - Chief Booking Officer Contest
Describe and show why you should be Booking.com's Chief Booking Officer and you could win a $35,000 travel credit and $20,000 for additional expenses.

Entry Frequency: One time per email
End Date: March 21st, 2018
Eligibility: Open to the U.S.
More Information about this Sweepstakes
Enter Sweepstakes Directly
2. Dear Doctor - Ultimate Smile Makeover Contest
Enter to win smile makeover dentistry worth up to $35,000 in cash.
Entry Frequency: 1 x daily per person
End Date: March 31st, 2018
Eligibility: Open to the U.S.
More Information about this Sweepstakes
Enter Sweepstakes Directly
3. Chico's - #HowBoldAreYou Contest
This sweepstakes is giving away three $1,000 Chico's gift cards.
Entry Frequency: One time per person
End Date: March 31st, 2018
Eligibility: Open to the U.S. and Canada (void in PQ)
More Information about this Sweepstakes
Enter Sweepstakes Directly
4. Macmillan Publishers - Anger Is a Gift Essay Contest
Enter and you could win 5,000 towards tuition or school supplies and a signed copy of Mark Oshiro's novel Anger Is a Gift.
Entry Frequency: One time per person/email
End Date: April 30th, 2018
Eligibility: Open to the U.S.
More Information about this Sweepstakes
Enter Sweepstakes Directly
5. Eggland's Best - 2018 America's Best Recipe Contest
Submit your regional ingredient-inspired recipe that uses eggs creatively for your chance at winning $10,000 and a year's supply of eggs or other prizes.
Entry Frequency: Limit of two entries per category for a total of eight entries max
End Date: April 30th, 2018
Eligibility: Open to the U.S.
More Information about this Sweepstakes
Enter Sweepstakes Directly
6. Johnsonville - Tailgate Wedding Contest
Enter to win a $60,000 wedding prize package for couples who love college football.
Entry Frequency: One time per person
End Date: May 6th, 2018
Eligibility: Open to residents of the contiguous United States or the District of Columbia who are engaged to be married and who are able to get married in 2018
More Information about this Sweepstakes
Enter Sweepstakes Directly
7. Chattanooga Bakery - MoonPie Memories Contest
Share your family's best MoonPie memory for chances to win a 100 year's supply of the tasty treat, or a trip to the bakery in Tennessee, or hats or t-shirts.
Entry Frequency: One time per person/email/household
End Date: June 30th, 2018
Eligibility: Open to the U.S.
More Information about this Sweepstakes
Enter Sweepstakes Directly
8. L. Rob Hubbard - Writers of the Future Contest
Write a science fiction story of 17,000 words or less for your chance to be judged by the hottest science fiction authors and to win an award and cash prizes worth up to $5,000.
Entry Frequency: Limit of one entry per quarter
End Date: Ongoing
Eligibility: Open to all who have not professionally published a novel, or more than one novelette, or more than three short stories
More Information about this Sweepstakes
Enter Sweepstakes Directly