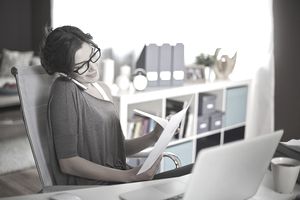 Are you interviewing for a job where you'll be telecommuting? Interviewing for a work at home job requires much of the same preparation as for any other job interview. Depending on the company, you may interview in person, by phone, or via Skype or video chat.
When you apply for a work at home job, you should expect to go through the same procedure as you would if you were applying for any other job.
You will likely submit at least one of the following: resume, cover letter, or a portfolio. You may also be required to complete a job application. It might seem like it will be a simpler process because you will be working remotely and not at the company's facility.
In fact, you should incorporate a few extra steps in your application process to insure that you are applying to a legitimate company for a real job.
Work at Home Job Interviews
There are a variety of ways companies interview for work at home jobs. How you will interview depends on the company's interview process and how the employer screens workers for work at home jobs. You may be asked to go to an office for a face to face interview, or you may speak with the hiring manager remotely.
Here's information on different types of work at home interviews, plus tips for acing each type of interview.
Work at Home Interview Tips
During your interview, the hiring manager is going to ask questions that will help her to determine how successful you will be in the position.
A good way to be prepared to answer work at home interview questions effectively is to review the job description, and make a list of the sought after skills and experiences.
Match that to a list of your skills and experiences, and think of specific examples you can give of instances when those attributes were successful for you on the job.
Review these tips for matching your qualifications to a job description so you're prepared to highlight why you're a good match for the job during the interview.
In addition to making a match between yourself and the job, be prepared to discuss why you want to telecommute and how you are equipped to do so. The interviewer will want to know about your work space, computer, internet connection and other technology you may need to know to do the job.
You should also check the company's website, social media sites, and any news articles where they are mentioned, to familiarize yourself with its products, services, and general information. If you have any contacts who are familiar with the company, ask them for information they think might pertain to your interview.
Regardless of the type of interview, these interview questions and questions to ask will help you be prepared.
Check Out the Company
Because there are so many work at home jobs that are scams, you need to ask questions and carefully research the job and the company.
Don't assume that a company is legitimate just because they have offices you can visit.
You should find out as much as you can about them in order to be prepared to interview well, as well as to protect your interests and avoid scams.
Here's what to watch for and how to avoid work at home scams.
Suggested Reading: 3 Ways to Find a Work at Home Job