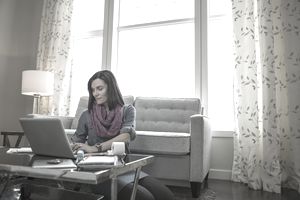 When you interview for work at home employment, in addition to being asked questions about your ability to do the job, you will also be asked about your home office and the equipment you have that you'll need to work remotely.
The employer will also try to determine if you are flexible and self-motivated as well as able to manage your time and projects working without supervision.
Here are typical work from home interview questions and sample answers.
Work at Home Interview Questions and Answers
Work at Home Questions to Ask an Employer
When you interview for a job, it's important to ask the employer questions that will help you decide if the job is one you want to take, if it were offered.
It's especially important with work at home employment, because there are so many jobs that aren't legitimate or if they are legitimate pay a very low rate. Don't be afraid to ask questions. The more information you have, the better equipped you will be to make a decision if you get a job offer.
Here is a list of work at home questions to ask the interviewer so you can make sure the job is what you are looking for.
How would you describe the responsibilities of the position?
Are there any fees for coming on board with this company?
Is training provided?
Are there set work hours or is the schedule flexible?
Would I be guaranteed a certain amount of hours each week?
Do I need to purchase any equipment or supplies if I'm offered the job?
If I am extended a job offer, how soon would you like me to start?
If I am hired, will I be paid as an employee or an independent contractor?
Is the pay an hourly rate or piecework or commission?
If hired, how will I be paid (check, direct deposit, etc.) and how often will I be paid?
What can I tell you about my qualifications?
When can I expect to hear from you?
Would you like a list of references?
Are there any other questions I can answer for you?