Women In Sports: The Latest
Passing of Pat Summit, Women Professional Baseball Players and More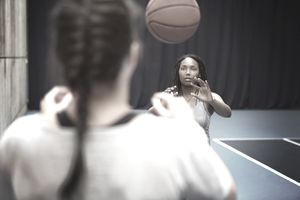 In the past this space has been used to chronicle the changing landscape for women in a variety of roles in the sports industry.
Some recent events have again brought this topic to the forefront of sports coverage.
Pat Summit, former coach of the University of Tennessee's women's basketball team passed away on June 28.  She was a Hall of Famer, winning over a thousand games and a staggering eight NCAA championships in her 38 years at the helm of the Lady Vols' program.
Her passing after a debilitating experience with Alzheimer's at the too soon age of just 64 resulted in an outpouring of  sadness and joyful reminiscing from her former players, others in the coaching ranks and media who covered her teams.
For those under the age of 25, it may be hard to imagine that women's college basketball was not a televised national property not that long ago. and Summit played an important role in that development.
Summit was a truly a trailblazer in the post Title IX era.  It was just over forty years ago that Title IX altered the course of sports inn higher education and elsewhere.  It is often said that luck is where preparation meets opportunity and Summit, Billie Jean King, and others elevated women's sports and instilled in young girls the idea that sports are a normal part of a girl's life - nothing unusual.
Another event that garnered some national attention - though certainly not the level of coverage that Summit's passing garnered - was the signing of two female players by the Sonoma Stompers of the Pacific Association, an unaffiliated minor league baseball team.team in California.
(Be sure to read about the book Ben Lindbergh and Sam Miller wrote about their season with the Stompers in 2015, which included the first openly gay active player in baseball, Sean Conroy.  The Stompers continue to be at the intersection of baseball and making history.)
The announcement that Kelsie Whitmore and Stacy Piagno had signed and would be playing in a July 1 game garnered media coverage from Sports Illustrated and the New York Daily News,among other news outlets.
Their signings are another step in the ongoing movement to integrate women into all parts of the sports industry, including on the field.
Earlier articles have featured a number of trailblazers, like Becky Hammon the first woman to be an NBA assistant coach. Also profiled have been the launch of an all female sports television show and the hiring of a female assistant coach in the NFL.
Of course on the field and in the coaching profession are not the only ways that women are impacting sports.
The growth of female viewers of the NFL is well documented.  And appealing to women is a high priority in the NBA, Major League Baseball and nearly every sport organization or league.
And this quest to appeal to the female market is not unique to the United States.  In the international market examples like this one about Australia abound.
So what does the future hold in terms of the intersection of women in sports?  Here are some educated guesses to ponder:
We have already moved into a time when a female fan is nothing unusual.  But the next frontier for female sports fan engagement may be an increased involvement in fantasy sports and gambling.  The topic has already been featured in USA Today and the New York Times. From a business perspective teams, leagues and sponsors will look to grow their business in any market segment possible - youth, elderly, me, women - that they think will help their businesses.  And that is likely a good thing as discrimination - intentional or unintentional can lose out to the pursuit of market share.
An emphasis on youth participation rates for boys and girls will receive more attention.  Getting kids - of both genders - to participate in sports is seen by many in the sports industry as important, yet rates are falling.  The Women's Sports Foundation points out many ways that girls benefit from sports participation.  It would not be surprising to see more or different interventions from the federal government around this issue.  More than fifty years ago President John F. Kennedy said ""We do not want our children to become a generation of spectators. Rather we want each of them to be a participant in the vigorous life." It may be that such a message could again resonate.
Any sort of prognosticating on a topic this broad is unlikely to be accurate - but that does not mean that it is not a worthwhile exercise for every sport organization.  Whether it is high schools promoting participation and attendance or media networks seeking increased viewership or teams trying to develop their fan bases, the time to try new approaches is now.
The world that Pat Summit was hired into is gone.  Female sports are growing - and will continue to into the future.  Media coverage of female sports from sites like ESPN W and Excelle will continue to grow and evolve.
The changes will be slow in some areas and amazingly fast in others.  It is amazing to think that students I teach in college today have never known a time when there was not a WNBA, for example.  Of course it took a concerted effort from so many people to make the WNBA a reality and then nurture it to its 20th anniversary.  But in many ways, the way that league has grown and become a part of the American sporting public's consciousness aligns with the old adage " the only way to get rich quick is slowly". 
Similarly the best way to measure the change in female attitudes toward, participation in and consumption of sports is to realize when Pat Summit got hired her salary was $8900 per year and in her last year it was $1.4 million.  Progress is happening.