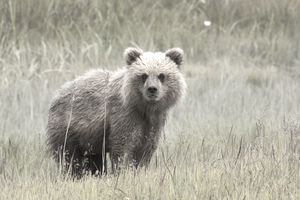 There are many different internship opportunities in the field of wildlife conservation.  Here is a sampling of some currently available opportunities in this field:
The American Bear Association (in Minnesota) offers summer internships at the Vince Shute Wildlife Sanctuary, where students have the opportunity to promote the conservation of black bears.  Interns present educational programs, welcome visitors to the facility, prepare food for the bears, maintain bear activity logs, maintain the facility, and more.
  Extremely rustic housing is provided on site and all meals are also included.
The Conservation and Land Management program (sponsored by the Chicago Botanic Garden) offers paid five month internships to students with experience in areas such as entomology, biology, wildlife biology, and zoology.  The CLM internship places students with various government agency partners including the Bureau of Land Management (BLM), the National Park Service, and the U.S. Fish and Wildlife Service.  Interns earn approximately $13,200 ($15 per hour) during the five month placements.  There are 75 to 100 internship placements available in each session.
The Montana Conservation Corps offers summer conservation internships through a network of 14 federal agencies and nonprofit groups in Montana, Idaho, and North Dakota.  The internships run from May to August and often involve work in areas such as conservation, biology, and the environmental sciences.
  The internships are paid opportunities, with interns receiving a $504 stipend to cover their living expenses on a bi-weekly basis.  They also receive a $1,195 AmeriCorps award upon the successful completion of their internship session.
The National Oceanic and Atmospheric Administration (NOAA) offers a paid internship program at its Pacific Islands Fisheries Science Center in Hawaii.
  Interns are assigned to work directly with a mentor while working in an area of study such as fish ecology, coral reef ecology, fishery economics, or stock assessment.  The program runs for 8 to 12 weeks over the summer.  Applicants must be rising juniors or seniors in college with a major in a related area such as marine science.
REEF Marine Conservation Internships (in Key Largo, Florida) are offered to upper level college students and recent college graduates. Internships run for our months and are unpaid, but there are a few $2,000 scholarships available to cover travel and living expenses.  Interns are involved with identifying specimens, performing dissections, diving and snorkeling, conducting educational presentations, general facility maintenance, and administrative tasks.  Applicants must have basic open water scuba certification and their own set of scuba gear.
The Student Conservation Association (SCA) offers a wide variety of internship opportunities, some of which are animal related internships.  The SCA internships change continually, but at the time of this writing there were opportunities to study bats, track white tailed deer, perform wildlife management field work with birds, collect field data on sea turtles, and to participate in endangered species protection with several different types of animal.
  Internships are expense-paid and there may be some additional compensation in the form of stipends or benefits.
The U.S. Fish and Wildlife Service offers dozens of different internship programs on its website (just do a search for the keyword of "internship" in the box at the top of the page to see all of the current possibilities at dozens of locations across the country).  There are many available internships that are associated with conservation, marine biology, wildlife management, and wildlife education.  Many of the internships offer free housing and a small stipend as compensation.
Final Word
For more internship possibilities related to wildlife check out our lists of wildlife rehabilitation internships, zoo internships, insect internships, avian internships, and marine mammal internships.