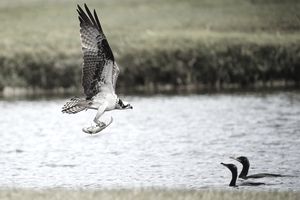 Wildlife biologists are primarily responsible for studying the biology, behavior, and habitats of a variety of animal populations in the wild. Here's an overview of the job for anyone considering a career in this field.
Duties
A wildlife biologist must use their knowledge of wildlife and habitats to manage and study animal populations. Those working in the field may require the skills needed to trap, tag, or relocate animals for conservation purposes.
They may also be responsible for conducting census projects, research studies, and complex data analysis. They also must possess solid communications skills in order to relate their scientific findings.
Wildlife biologists may be involved with managing forests or wetlands, studying ecosystems, developing land and water use plans, working to save endangered species, evaluating the impact of commercial ventures on local wildlife, or studying wildlife disease transmission. They may also interact with fish and game wardens and wildlife rehabilitators to coordinate the management of local wildlife.
In addition to routine administrative office work, wildlife biologists frequently work outdoors in potentially harsh conditions. They may interact with and study any number of animal species in the population of local wildlife including deer, moose, raccoons, opossums, migratory birds, birds of prey, reptiles, marine mammals, bats, big cats, fish, and amphibians.
Career Options
Wildlife biologists may find employment in higher education, usually as college professors, if they hold advanced degrees. They may also work for the state or federal government in conservation or research roles, often within agencies such as the U.S. Fish and Wildlife Service. Private sector employment may be secured with zoos, community centers, environmental research facilities, and consulting firms.
Education and Certification
A wildlife biologist usually possesses a degree in wildlife or fisheries management or a related area. These degrees generally involve the completion of coursework in wildlife conservation and management, population dynamics, animal behavior, genetics, zoology, ecology, anatomy and physiology, biology, botany, chemistry, statistics, and wildlife or environmental law. A bachelor's degree is required at minimum, while a Masters degree or PhD is generally preferred by most governmental and private employers.
Wildlife biologists must also be very familiar with the use of various computer-based technologies and advanced methods of data manipulation. They often utilize specialized computer software designed to track individual animal movements, map population dynamics, and compile statistical data analysis.
The Wildlife Society offers the field's professional designation: Certified Wildlife Biologist (CWB). CWB applicants must meet educational requirements and have at least five years of professional experience. Wildlife biologists who have not yet achieved the requisite professional experience may be granted Associate Wildlife Biologist (AWB) certification status.
Once certified, the wildlife biologist must complete at least 80 hours of continuing education every five years.
Salary
The salary for wildlife biologists may vary based on factors such as type of employment, level of education, and the duties required by their specific position. Online salary data sites such as Indeed.com quote an average salary for a wildlife biologist as being approximately $64,000.
The Bureau of Labor and Statistics (BLS) reported a similar median annual salary of $58,270 ($28.02 per hour) for wildlife biologists in its 2014 salary study. The bottom 10 percent of wildlife biologists reported annual earnings of under $38,080.  The top tier earned more than $96,720.
Wildlife biologists holding advanced degrees or with specialized knowledge tend to earn higher salaries in the field.
According to the 2014 BLS survey, wildlife biologist positions with the federal government offered the highest compensation: an annual mean wage of $74,110. Research scientists ran second on the salary scale, pulling in an annual mean wage of $59,950.
Job Outlook
The Bureau of Labor and Statistics (BLS) expects employment of zoologists and wildlife biologists to grow at just 4 percent over the decade from 2014 to 2024.  This is a much slower rate than the average growth expected for all professions surveyed.
Those wildlife biologists that hold Masters or PhD degrees will have the greatest number of career options over the next decade, especially in the areas of research or academia.