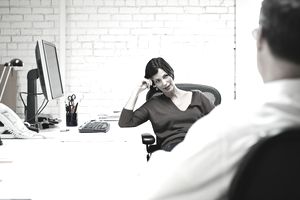 Wondering how to get a literary agent? Choosing an agent for your book? Then you need to know about the Association of Authors' Representatives (AAR).
AAR is a nonprofit membership organization of professional literary (book) agents. Founded in 1991, AAR has about 400 agent members (in addition to literary agents, membership includes dramatic agents, as well (i.e. those who represent playwrights and play rights).
It is the preeminent trade organization for literary agents in the United States. Members in the Literary Branch represent authors in all areas of publishing — from those who represent the author for the initial sale of the book to a book publisher ("granting of primary publishing rights"), to those who sell the foreign rights and the dramatic rights to their clients' works.
It's important that your literary agent be a member of the AAR for the following reasons:
The AAR membership criteria ensure that your agent meets at least a minimum level of experience.
As Timothy Knowlton of Curtis Brown Ltd literary agency said in an interview, there's no bar to entry if someone wants to hang out a book agent shingle. But in order to be a full AAR member, an agent must have at least two years of experience working full-time in the field. Additionally, he or she must have at least 10 sales within an 18-month period (and been primarily responsible for executing the publishing contracts, translation or performance rights of the property).
In additional to knowing what they're doing, the AAR requires two letters of reference.
(Note: The AAR has an Associate Agent membership level, but that requires full-time literary agency employment, an increasing level of responsibility and a letter of recommendation from the employer agency — helping to ensure that the Associate Agent is on track to hit the full membership criteria.)
The AAR takes ethics seriously — and sanctions those agents who don't.
AAR members agree to adhere to a Canon of Ethics — one that commits them to service of their clients' — the authors' — business and artistic needs, ensures integrity in financial accounting practices and confidentiality, and prevents them from any actions that would be deemed a conflict of interest. An AAR Ethics Committee is responsible for dealing with alleged violations of its Canon of Ethics— that is, unethical conduct — by members. Agents who demonstrate a lack of integrity risk being expelled from the organization, which gives authors recourse in the event of an ethical breach.
The AAR keeps agents abreast of issues affecting authors in the changing book publishing landscape.
As making a living as a literary agent is inextricably entwined with the agents' authors getting financial remuneration, anything that affects the authors' bottom lines deeply affects agents' livelihoods, too. For example, as Tim Knowlton shared, technology has changed the way readers buy and read, and how publishers do business, which impacts authors. Therefore, the AAR keeps close tabs on the publishing industry as a whole.
In addition to an internal publication The Pitch and their blog, the AARdvark, the organization regularly offers panels, educational programs, and social events for its members to keep them up to speed on critical developments in key areas such as book contracts, royalties, electronic publishing, and legal practices.
The AAR maintains close working relationships with other professional publishing organizations, such as the Authors Guild and the Association of American Publishers, and frequently collaborates on programs in order to share information.
To see if an agent you're considering doing business with is a member of the Association of Authors' Representative, refer to their website for the AAR roster of member agents.