Why We Buy : A Road Trip Snack Case Study
Talking to strangers in store can lead to fascinating answers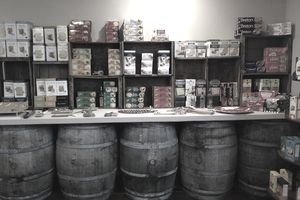 While perusing the cheese selection at the charming Bravo Farms Gifts & Mercantile emporium on California's Interstate 5, I couldn't help evesdropping on a couple who were shopping for road snacks. They had walked up to a wall lined with the best specialty cracker brands (see the photo) and snatched a box of Stonewall Kitchen Rosemary Parmesan crackers within seconds of approaching the display.
This Roadtripping Couple Made an Insanely Quick Purchase Choice
The couple, a man and woman in their early 50s, eagerly shared what drove their cracker purchase.
If you're into consumer behavior, or manage a packaged food brand, first take a look at the photo I snapped. Then guess their answers.
Product Location: Stonewall Kitchen's crackers had the left-most position, making them the most easily accessible.
Awareness: They had not previously heard of Stonewall Kitchen, so the company's reputation did not factor in. (Yes, no matter how popular you are there will be customers new to you!)
Eye-catching Design: The clean package design reminded them of Weight Watchers. They didn't confirm if the suggestion of low calorie leaned them toward the crackers, but I had a feeling so.
Preference: The buyer (a woman in her 50s) had been prone to liking rosemary crackers. She raved about some larger rosemary crackers she had bought at Costco to use instead of bread.
Decision-making Process: The couple actually stepped me through their thought process of having eliminated blue cheese (too early I the morning) and Everything flavors.
Price: Not once did they mention price and perhaps had not even compared prices.
They revealed in fact they had browsed the selection a bit earlier and had been chewing over the choice.
Merchandising Lessons
The exercise fascinated me and reinforces how the long-time retail success advice holds true, especially in an impulse purchase environment:
Shelf location, location, location matters.
A brand block, where you have several similar products for an eye-catching display, catches attention.
A clean bright package design may draw more attention than richly colored packages.
Beautiful design adds value to the retail environment and will increase likelihood that a retailer will place your products in more than one spot. This especially holds true in a boutique or gift store where different product categories complement each other beautifully for impulse purchase or gifting.
Traditional Demographics Are Dead
Trendwatching coined the term "Post Demographic Consumerism, which suggests "a new approach to target consumers of all ages in all markets by addressing their very specific needs rather than segmenting them by conventional demographic groups. 
This use-case, or scenario, fully supports this idea.
When we are on the road, are we not all alike with more dietary and taste preferences in common than our demographic qualities?
When we're in a hurry for food and don't want to get to the store, aren't we all alike in going to Instacart, or another online food delivery site, to place our order?
Marketing to Millennials is Dead, Long Live the Millennial!
Many businesses have looked at how they can win the hearts and wallets of Millennials, aged 18-15 in 2015 and who, in this same year, overtook Baby Boomers in numbers.
Suddenly everyone realized that we all want good experiences, more experiences and less things, and convenience. As more people rely on mobile devices for information and connection, the age divide is no longer such a divide.
The Case for Lifestyle Segmentation
I do believe niche groups like Yuccies (young, urban creative-class foodies) are worth segmenting by psychographics, in terms of their lifestyles. While a friend complained that a beautiful, new food marketplace was "twee," a negative term meaning precious or too way cute, upscale eateries and Yuccies go hand in hand. (Hey, I live in the Bay Area, so I've seen it myself!)
But the traditional demographics of age, gender, income have largely become less relevant as we are now all seeking convenience — whether because we're in a hurry or we are not able to leave our homes, in case the case of our aging population.
Surely more to come on this fascinating topic of why we buy foods impulsively and why we choose different brands from those we intended to.