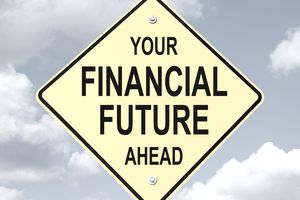 Does My 401k Offer an Annuity Income Choice?
This is a common sense question that has kept rational people scratching their heads for a very long time. The Department of the Treasury and the IRS have actually approved the use of a new Longevity Annuity called a QLAC within 401k and IRA plans. The new product is called  a Qualified Longevity Annuity Contract. In typical government fashion, the powers that be "tip toed" their way into this, and still need to raise the limitations which currently sit at $125,000 or 25% of your account total-whichever amount is less.
Beggars can't be choosy, so let's applaud the genesis of this ruling and build on it from here. 
Defined Benefit plans predate the common Defined Contribution Plans of today.
Back in the good old days, companies used to offer what were called Defined Benefit plans to their employees. These valuable plans were, in essence, future pensions and the company would guarantee the income stream as a way to say thank you for years of service. Today, less than 10% of private companies offer these pension type guarantees. The main reasons for this change are the rising costs involved and the obvious future payment liabilities of guaranteeing a pension plan for employees. Consider yourself one of the fortunate ones if you have a Defined Benefit plan.
Defined Benefit Plans are employer driven, and as described above, very expensive to the company. In order to save money, and still offer a retirement plan structure for their employees, most companies have now shifted to Defined Contribution Plans.
These types of plans are employee driven and are usually 401k plans. The employee can contribute to their own retirement 401k account using pretax dollars and the company typically matches their contributions up to a specific percentage of their yearly income.
The problem with 401k plans, before the recent ruling, was that there was no option or product available to plan for lifetime income.
You literally would need to transfer your 401k money to a personal IRA in order to buy an annuity product that would guarantee a lifetime income stream. There are other annuities that can also provide income for life, if that is what you are looking for.
A Lifetime Income Stream is really a Lifestyle Income Stream.
Forget the phrase "Lifetime Income Stream". I have now renamed it "Lifestyle Income Stream". When you retire, it's all about your lifestyle. You need to make sure you have enough money to maintain that desired lifestyle. Income annuities, like Longevity Annuities, are the only product category on the planet that will guarantee a lifetime income stream regardless of how long you live. That does not mean you have to own one, but they do provide the foundation of income guarantees that many people desire.
A longevity annuity may be the answer to your lifetime income stream needs.
Longevity Annuities (aka: Deferred Income Annuities – DIAs) are future pension products that can be deferred as short as 2 years and up to as long as 45 years (depending on the carrier). A Qualified Longevity Annuity Contract (QLAC) is a specific longevity annuity approved for use in a Traditional IRA or 401k.
All of these longevity annuites have no fees, no market attachments, and can be set up in a joint payout structure with your spouse. Cost of Living Adjustments, or annual increases, can also be added to a Longevity Annuity policy. You are able to choose the contractually guaranteed percentage increase. Many carriers now offer the QLACs for use with your Traditional IRA funds, and consumers wanting to place their 401k funds into a similar income payment structure will motivate the carriers to offer competitive options.
Be patient for implementation of the ruling allowing QLACs within your IRA and 401k.
Like everything in life, things tend to happen slowly. The good news is that the ruling which allows you to use Longevity Annuities in your 401k and IRA has been approved. The bad news is that it will probably take time for implementation and a few years to get the bugs out of the process.
The current QLAC rules in place allow you to use 25% or $125,000 (whichever is less) of your 401k or IRA to buy a Longevity Annuity. My advice is to consider this guaranteed income option as part of your future "Lifestyle Income Stream."  I think it's a decision you will not regret.