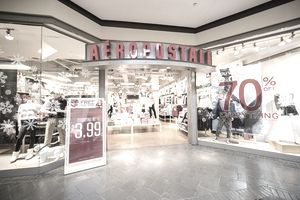 When the announcement that Aéropostale was filing bankruptcy and closing over 100 of its stores, few people were really shocked. But looking back on where the company once was, to where it is now, is like looking into the future of where retailing is headed.
The Aéropostale Store is Born
Macy's opened the first Aéropostale stores in September 1987 in California. The store sold men and women's apparel and shoppers were quick to embrace the Aéropostale look.
The styles, like the name, were influenced by the 1920s airmail company, Compagnie Generale Aéropostale. Leather bomber jackets , baggy khakis with cinched waistlines and sharp white classic knitwear was the look everyone was buying.
In 1998, Macy's sold Aéropostale to Irving Place Capital (aka Bear Stearns Merchant Banking) and by 2002, there were over 300 stores.  During those years, there was a shift in the customer base from the older more mature young adults to  teenagers between the ages of 14-17 years old. Based on the  riveting sales performance year after year, Aéropostale knew exactly what most young teens wanted to wear.
During  the next 10 years, the company was cranking out classic designs, graphic t-shirts, sexy denims, floppy pullover sweaters, lazy sweats, basic t-shirts and the accessories to go with it all. Hoodies became the item that every teen had to have and Aéropostale had the coolest ones around.
Sales were booming and the company was aggressively expanding.  Expansion grew to 700 stores in the U.S. and 60 in Canada. P.S. from Aéropostale stores began appearing. The styling  was geared to the four to 12-year-olds. Globally, the company licensed over 200 Aéropostale and P.S. stores in Asia, Europe, Latin America and the Middle East.
They got into e-commerce.  Aéropostale Factory Outlets were opening at major outlet malls and business was strong. All indicators were positive. The company was hot.
What Goes Up, Must Come Down
For several years the company exploded with expansion, but then in 2011, sales started to slack off. One quarter after another showed declines. The apparel that had taken the company to the top was now pulling it back down.  Shoppers were buying one t-shirt instead of six and only if it was on sale.
By 2013, the inventory was just sitting in the stores. Sale signs advertising huge discounts were hanging all over the stores. It wasn't uncommon to see the entire Aéropostale retail and outlet stores with 70 percent off the entire inventory.
Finally, the Aéropostale design team realized that their customers were bored with what was in the stores. After all, much of the inventory had been repackaged in different colors, but with the same basic styling, for years.
Instead of wanting to look like an Aéropostale mannequin, teens decided they wanted their own unpredictable look and it had to be edgy, sexy and different from one week to the next. If it was something that they found at thrift store, that was cool, too.
Aéropostale realized that their customer had changed and that it was time to give up the classic looks and focus on getting trendier styles to the stores quickly and introduce new looks faster.  Unfortunately, by the time all of this was realized, it was too late. Shopping at Aéropostale was out. The bubble had burst.
Divide and Conquer or be Conquered
At the beginning of 2016, Aéropostale CEO Julian Geiger announced that the company was implementing a new strategy based on what they had learned about their customer. According to Geiger, 40 percent of their customers wanted fashion, while 60 percent wanted a more basic selection of styles at good price.
It was Geiger's assessment that stores should be set up differently for both types of customers. In the higher-end malls, the stores would be merchandised with higher end fashion.
In the slower, less fashionable malls, the stores would be merchandised with more basic merchandise at value prices.
To begin implementing this new strategy, the company put up Aéropostale Factory Store signs on many of the front of stores that are located in full-retail malls. The plan was that the stores would be merchandised the same at the Aéropostale Factory Stores that are located in outlet malls. Geiger's "bifurcates store strategy" was to merchandise the factory stores "narrow and deep" with deeply discounted basic merchandise and logo products.
Out of Time
Aéropostale reported 13 straight months of decline and a net loss of $206 million dollars in 2015.  On May 4, 2016, the company filed for Chapter 11 bankruptcy. As part of the restructuring plan, it announced that it was closing 154 stores; 113 in the U.S. and 41 in Canada.
The Future
Geiger believe that sales will improve with the new "bifurcated store strategy" is fully in place. He also recognized that teens today want fresh, unique styles to choose from as often as possible. By responding to their demands and  becoming more competitive, Geiger is hopeful that things will turn around.