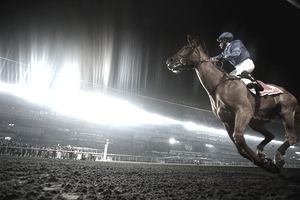 There are many career paths tied to the horse racing industry (both at the track and on breeding farms).  While there are no licensing requirements for farm workers, all personnel working at the racetrack must be licensed in each state where they perform their duties.  Those who travel the racing circuit must secure licenses in several states.
Types of Racing Licenses
The licensing requirements at a racetrack may vary slightly by state, but in general terms almost every on-track position requires a license.
  Occupational licenses are usually required for trainers, assistant trainers, grooms, hot walkers, exercise riders, owners, jockeys, jockey agents, jockey valets, veterinarians, farriers (blacksmiths), outriders, harness racing drivers, and stable hands.  Those not working directly with the horses must also be licensed including administrative staff, racing stewards and other officials, members of management, mutuel clerks, food service workers, and more.
Licensing Process
The licensing process usually involves completion of a written license application, submission of fingerprint cards (either using actual inked cards or digital fingerprint scanners), submission of a current photograph, and potentially some official form of testing (written, oral, or skills based) for certain occupations. 
The racing board's licensing office conducts a background check and ensures that all necessary information has been collected before issuing a license.
  License applicants can go through this process in person at the licensing or racing office at the track, print out an online application and send in the appropriate fee by mail, or utilize a centralized licensing application service like the National Racing Compact.  There may be additional fees assessed for the processing costs associated with fingerprint submission.
Once the licensing process has been completed, the new licensee receives a set of printed credentials (often in the form of a badge with a photo).  Credentials allow the licensee to enter the track property and obtain access to restricted areas on the backside.  Some jurisdictions provide multi-year licenses, while others require applicants to renew their licenses on a yearly basis.  Some jurisdictions also offer reciprocity between jurisdictions, meaning those that have been approved for a license in a reciprocal state can ask that their fingerprint information be shared to avoid having to complete separate sets of cards.
Licensing Fees
Fees for the different occupational licenses can vary wildly from one state to the next and for each type of position.  For example, a Thoroughbred trainer license can range from $25 to $300 depending on the state and license term.  A Standardbred driver license can range from $10 to $200.  A jockey license can range from $10 to $300.  It is common for other personnel licenses (grooms, hot walkers, and other stable help) to be in the $5 to $25 range.
National Racing Compact
The National Racing Compact (NRC) is a centralized license application service that acts as a liaison with 24 racing jurisdictions in the United States and Canada.
  The group acts as a liaison for trainers, drivers, jockeys, owners, and stables/partnerships that are involved in Thoroughbred, Standardbred, and Quarter Horse racing.  The fee for the service is $225 (which entitles members to services for a three year membership period), plus license application fees and any express shipping costs as additional licenses are requested.  Fees may be paid by credit card and applications can be processed on short notice with a quick phone call.
A key benefit of this set-up is that the NRC only requires the submission of a single application, photo, and set of fingerprints.  It can then use these materials to fulfill licensing requests for many states, instead of the applicant having to submit multiple packets of information to complete licensing requirements in multiple jurisdictions.
  Many prominent owners, trainers, and partnership groups use the NRC service to streamline their application processes.