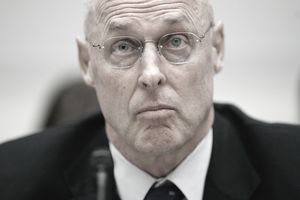 Henry (Hank) Paulson was U.S. Treasury Secretary from 2006 to 2009. His response to the 2008 financial crisis prevented a global depression.
President George W. Bush chose Paulson for his strong connections to Wall Street and to China. Paulson was the Chairman and CEO of Goldman Sachs since 1998. He made over 70 business-related trips to China during his tenure. He was also a strong advocate of corporate accountability and disciplined spending.
For those reasons, he became the point man for efforts to reduce the budget deficit and restore foreign investors' confidence in the American economy.
Why Is He Important to the U.S. Economy?
Hank Paulson is important because of his significant role as former head of the U.S. Treasury, which is itself a critical government agency. It's $11 billion budget makes it one of the largest. It controls another $358 billion in tax credits and debt financing, including Treasury bonds. It manages the Internal Revenue Service, the U.S. Mint, and the Bureau of the Public Debt.
However, Paulson's background, direct personal style and opinions regarding the economy propelled Treasury into a pivotal role during his tenure. That role was continued by Paulson's successor Tim Geithner.
Paulson's Initial Mandate:
Paulson was hired as Treasury Secretary to champion several of President Bush's economic goals:
Cut the budget deficit in half by 2009.
Address the long-term unfunded obligations of Social Security and Medicare.
Increase U.S. economic competitiveness.
Reduce regulation on foreign capital investment.
Work with China to raise the value of their currency and open their financial markets to U.S. investors.
Keep taxes low and collect them in a more simple and fair manner
Paulson's Initial Successes:
Paulson immediately launched the U.S.- China Strategic Economic Dialogue, in which high-ranking U.S. and Chinese officials agreed to meet twice a year to further economic cooperation between the two. As a result, China began to open its financial and services sectors to U.S. investors, lower its subsidies to its exporters, and allow its currency to rise.
Paulson's Role in the Economic Crisis:
By 2007, the economic crisis diverted Paulson's attention back to the U.S. He helped launch the Federal Tax Rebate Plan that sent $98 billion in tax rebate checks during Spring 2008. He also helped create the Hope Now Alliance which helped 1.7 million homeowners avoid foreclosures. He pushed the conservatorship of Fannie Mae, Freddie Mac and the Federal Home Loan Banks. He asked Congress to approve a $700 billion bailout to buy up mortgage-backed securities that were in danger of defaulting. (Source: U.S. Treasury, "July 8 Press Release")
Paulson wrote a book about this experience called On the Brink.
Early Career
Paulson got his B.A. from Dartmouth in 1968. He was a member of Phi Beta Kappa, and an All Ivy, All East football player. He received an MBA from Harvard Business School in 1970.
Paulson was a Staff Assistant to the Assistant Secretary of Defense from 1970 to 1972. He became Staff Assistant to President Nixon from 1972 to 1973. He joined Goldman Sachs in 1974. (Source: "Treasury Officials," U.S. Treasury.)