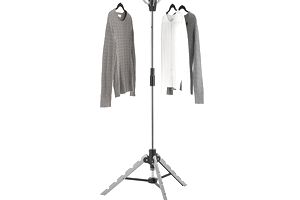 The Bottom Line
The Whitmor Tri-Pod Drying Rack is a great replacement for those flimsy, wooden drying racks that never seem to work the way you want them to.
Pros
Collapses easily for storage
Holds up to 36 garments
Sturdier than most drying racks
Rust-proof
Allows you to dry clothes on their hangers, so you can get more on the rack, and transfer things directly to your closet when you're done.
A good alternative to a clothesline, if you don't have the space for one, or your HOA doesn't allow them in your neighborhood
Portable -- so it's easy to set up outdoors on nice days and indoors on not-so-nice days
Doesn't take up much space - you just need 28" of floor space to set it up
Can also be used to display clothes at a yard sale, or when you're prepping for a consignment sale
Cons
Legs and arms are made of plastic (though the center pole is metal)
Cheap, plastic hangers may break under the weight of heavy, wet clothes
Drying clothes on hangers could stretch some garments, or leave little points on the the tops of the shoulders of your shirts. Wire hangers are most prone to this. Consider investing in quality hangers to use with your drying rack. The newer felt hangers are supposed to eliminate points and stretching.
Description
Features a tripod design, with telescoping arms
Measures 28"x28"x64.5"
Black and grey color scheme
Expert Review - Whitmor Tri-Pod Drying Rack
The Whitmor Tri-Pod Drying Rack is everything a drying rack should be. It's sturdy tripod design makes it easy to air-dry up to 36 garments on one rack, while it's height makes it possible to dry pants and long skirts (when draped over a hanger).
The notches on the arms keep hangers right where you put them; and when you're done, the whole thing collapses for easy storage. Forget about those frustrating accordian-styled drying racks. This is the rack for people who are serious about cutting down on their dryer use.
New to Air-Drying Clothes?
People sometimes complain that air-drying leaves their clothes feeling stiff. Here's how to prevent that from happening. And if you plan to dry your clothes indoors, you'll probably find these tips useful. Planning to dry your clothes outdoors? Then, these tips are for you.
Green Up Your Laundry Routine
Here are some resources to help you cut your energy use and dependency on store-bought laundry products: