Which States Have the Best Economies?
Arkansas Is the Nation's Fastest-Growing State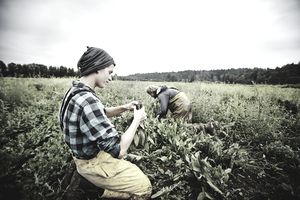 Which states have the best economies and job markets? There's not a one-size-fits-all answer to that question. For example, many of the states with the fastest-growing economies did so for reasons that might not get you a job. Washington, Oregon, Colorado, and Arizona owed most of their growth to real estate and construction. That's great only if you have those skills. 
You might have better luck in Maine and Michigan.
Manufacturing is generating growth in those states. These industries create more jobs than farming or real estate. In fact, manufacturing provides some of the highest-paid jobs in the United States. For more, see Manufacturing Jobs: Examples, Types, and Changes.
There are plenty of jobs in retail in Arkansas. Entry-level positions don't pay well, but that improves at managerial levels. Here is the breakdown and growth rates for the ten best performing states.
| State | Growth Rate (Q1 2016) | Top Growth Industries | Secondary  |
| --- | --- | --- | --- |
| Arkansas | 3.9% | Agriculture | Retail |
| Washington | 3.9% | Information | Real Estate |
| Oregon | 3.9% | Real Estate | Agriculture |
| Colorado | 3.9% | Real Estate | Construction |
| D.C. | 2.8% | Government | Professional |
| Arizona | 2.6% | Real Estate | Finance |
| Michigan | 2.6% | Real Estate | Manufacturing |
| Utah | 2.6% | Health Care | Construction |
| Maine | 2.3% | Construction | Manufacturing |
| Florida | 2.1% | Real Estate | Construction |
(Source: "GDP Growth by State for Q1 2016," U.S. Bureau of Economic Analysis, July 27, 2016.)
Best States to Start a Business
Here are the top ten states for starting a business. The Kaufman Foundation ranks them by three attributes: Rate of new entrepreneurs, opportunity share of new entrepreneurs, and start-up density.   Montana, Wyoming, North Dakota and Colorado were the top four in 2015.
That's despite the downturn in the shale oil industry. They probably won't be that high on the list in 2016. To find out what happened, see U.S. Shale Oil Boom and Bust.
Vermont (#5) does well with new-business start-ups thanks to its resources of private equity and venture capital funds. South Dakota (#6) and Idaho (#8) are growing fast, as noted above. Alaska is #7 because of the oil industry. It will also be lower on the list in 2016.  Florida is #9, and Nevada is #10. The growth in those states helps those with entrepreneurial skills. (Source: "Best States for New Businesses," Kauffman Foundation, 2015.)
Don't go to California, Rhode Island, Illinois, Connecticut or New Jersey, which are rated "D" or "F" by their entrepreneurs. The biggest reason for the ratings, whether high or low, was how easy it is to get professional licenses and file taxes. (Small Business Owners Grade Their States for Business Friendliness, Kaufmann Foundation, June 10, 2014.)
10 Best States to Find a Job
Here are the ten states with the cities that rank highest in ease in finding a job. Many of these cities are in the fastest-growing states in the list above.
Texas: Plano (#1), Austin (#3), Irving (#4)
Kansas: Overland Park (#2)
Utah: Salt Lake City (#5)
Iowa: Des Moines (#6)
California: Irvine (#7)
Wisconsin: Madison (#8)
South Dakota: Sioux Falls (#9)
Nebraska: Omaha (#10)
Idaho: Boise (#11)
Colorado: Denver (#12)
(Source: 2016's Best and Worst Cities for Finding a Job, WalletHub)
How It Affects You
You might want to think about moving to one of the states on the list, even if you aren't an entrepreneur or have farming skills. The companies that are doing well need all skill levels. It may also be a favorable environment to improve your skills and become more entrepreneurial yourself.
On the other hand, this list changes rapidly. Just three years ago, Texas grew a hearty 3.7 percent. However, it did so thanks to oil drilling and immigration from Mexico. That applied to many of the other fastest-growing states, which were boosted by mining.
Four of the top five benefited from shale oil extraction. They were North Dakota (9.7 percent), Wyoming (7.6 percent), Oklahoma (4.2 percent), and Colorado (3.8 percent). The fifth, West Virginia, grew 5.1 percent thanks to national demand for coal. These states were also good for those who wanted to start a business. Their rapid growth created a desperate need for small service businesses. But they are at the bottom now that oil prices have fallen. (Source: "Top States With Fastest Growing Economies," USA Today, June 15, 2013)
Related Articles