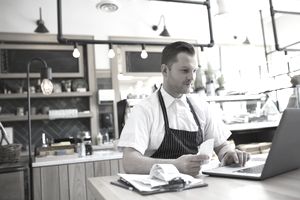 Defining "Disregarded Entity"
A disregarded entity is a business type that is separate from the owner for liability purposes, but it is the same as the owner for tax purposes. That is, it pays taxes through the owner's personal income tax return. So there are two pieces to the disregarded entity puzzle, both of which must be present:
The business type is separate from the individual for liability purposes, and
The business is taxed through the individual's personal tax return, on Schedule C.
Are These Business Types Disregarded Entities?
Businesses are set up under state regulations, through the secretary of state for each state, and no state recognizes a "disregarded entity" as a business type. Look at each of the legal types of business to see how it compares to the requirements for a disregarded entity:
Sole proprietorship, in which you and the business are the same entity. The sole prop is taxed on Schedule C, but there is no separate business entity to provide liability protection for you if the business can't pay its bills or gets sued. A sole proprietorship is NOT a disregarded entity. (You do not register a sole proprietorship with your state; you just need a local business license and possibly a fictitious name/dba statement).
 
A single-member limited liability company (LLC) is a separate entity for liability purposes, registered with the state(s) where you are doing business, and the LLC taxes are figured on Schedule C. A single-member LLC IS a disregarded entity.
 
How Does a Disregarded Entity File a Tax Return? 
As you can see above, the only entity that's considered a disregarded entity is a single-member LLC that is not taxed as a corporation or S corporation. A single-member LLC files a Schedule C to report the profit or loss from the business, and this report is included in the owner's personal tax return. 
What's the EIN for a Disregarded Entity? 
You may be asked to report a taxpayer ID number for your single-member LLC on a W-9 form or other form that relates to federal income taxes. Just to confuse the issue, if you own a single-member LLC, the IRS says, 
For federal income tax purposes, a single-member LLC classified as a disregarded entity generally must use the owner's social security number (SSN) or EIN for all information returns and reporting related to income tax. 
If the LLC has an EIN, don't u se it for federal income tax purposes. But you will need to use the LLC's EIN for employment tax (for employee reports) and excise tax purposes. 
Do I Have to File an Election to be a Disregarded Entity? 
The short answer is "No, you don't need to file an election." If you own a single-member LLC and you haven't filed an election to be taxed as a corporation, you are automatically considered to be a disregarded entity. 
The IRS says, 
...an LLC with only one member is treated as an entity disregarded as separate from its owner for income tax purposes...unless it files Form 8832 and affirmatively elects to be treated as a corporation.
A disregarded entity is considered the same entity as the owner for tax purposes, but not for liability purposes.
For more information on this subject, read this article in which attorney Robert Warwick discusses disregarded entity tax and liability issues.