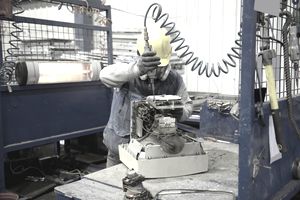 Electronics seem to age ever more rapidly. Replace any one piece of computer equipment and you immediately need to replace three more. For years I just piled all my old computer gear in the garage as I didn't want it to end up in a landfill. But now we all have a lot more computer recycling choices.
Want to recycle your computer but don't know where or how? This list of ideas and places for recycling your computer equipment in Canada will help.
1. Check with the manufacturer of your computer or electronic device to see what recycling programs the company offers.
Some have none still but most major electronics manufacturers are offering some sort of recycling options. In some cases, you'll only be able to participate if you paid an environmental fee when you bought your computer but others offer computer recycling and recycling of other electronics for a fee. Some is even free, such as Dell Canada's free home system recycling program.
Another computer recycling program of special note is Lenovo Canada's PC Recycling Service for individuals and small-business customers, which allows customers to recycle any Lenovo branded PC products, IBM branded desktop and notebook computers and monitors manufactured by Lenovo after May 1, 2005; and LenovoEMC and Iomega branded Network Attached Storage devices for free.
Dell, Apple, Hewlett-Packard (Canada) Co., IBM Canada Ltd.
and Lexmark Canada Inc. are among the founding members of Electronics Product Stewardship Canada (EPS Canada), a non-profit organization that is developing a national electronics end-of-life program in Canada. This program is based on establishing environmental handling fees across the country for each major electronics product line.
2. Find out what provincial and/or municipal electronics recycling programs are available in your area.
Alberta was the first province to provide electronic recycling to its residents. The Alberta Recycling Management Authority was established in 2004 and today there are more than 180 collection sites across the province where people can drop off their computers, computer equipment, printers and televisions. The program is funded by environmental fees collected on electronics at the time of purchase.
Saskatchewan has followed suit; the SWEEP program, started in February 2007, also provides collection sites across the province where residents can drop their desktop computers, laptops, printers and televisions off for recycling.
B.C. offers a similar electronics recycling program.
In Nova Scotia and Prince Edward Island, the Atlantic Canada Electronics Stewardship recycles all electronics except for cell phones; residents simply drop off their unwanted televisions, computers, printers etc., at collection sites throughout the provinces.
New Brunswick has electronic recycling programs in the works hopefully. In the meantime, The Westmorland-Albert Solid Waste Corporation continues to provide electronics recycling for residents of Westmorland and Albert counties while the Fundy Region Solid Waste Commission recycles computers, shipping them to Resnet, a non-profit organization in Edmundston that disassembles some systems to salvage working components and recyclable materials and refurbishes others and donates them to low-income families and non-profit groups.
Electronics recycling in Ontario is managed by the Ontario Electronic Stewardship (OES). Currently the program keeps 44 different products out of our landfills through a network of recycling and reuse partners. Visit Recycle Your Electronics to find out where to recycle computers and other unwanted electronic devices from Smart Phones through fax machines.
Quebec does not seem to have a provincial computer recycling programs in place, but electronics recycling is available in many municipalities. For example, the Electronic Recycling Association is active in Montreal and Quebec City and companies such as EnviroTree provide both business and residential electronics recycling in Montreal and St-Hubert.
The Multi Materials Stewardship Board (MMSB), a Crown agency of the Government of Newfoundland and Labrador, oversees waste diversion and recycling programs throughout Newfoundland and Labrador.
As of this writing, they don't have a provincial computer recycling program. They do, however, provide a list of e-waste recyclers and reuse programs on their website.
3. Become part of Industry Canada's Computers for Schools program.
Co-founded in 1993 by Industry Canada and the TelecomPioneers, the Computers for Schools program refurbishes computers and related equipment donated by governments and businesses and distributes them across Canada to schools, libraries and registered not-for-profit learning organizations. The computer equipment must be in good working order.
4. Donate your used computer or electronic equipment to a charity or no-profit organization.
A quick search on the 'Net or through the phone book and a few calls or emails and you're sure to find some worthy organization that could make good use of your old but perfectly working computer equipment.
In Kitchener, Ontario, for instance, The Working Centre accepts donations of used computers to provide people with access to affordable computers.
Local newspapers are also a great way to find out what local charities are up to and what their needs are. For example, today I read that my local Stroke Support group is looking for someone to donate a computer to their organization.
If you live in Calgary, Edmonton, Vancouver, Toronto or Montreal, the Electronic Recycling Association, a non-profit organization, collects old computers for donations and recycling. They accept computers, monitors, laptops, printers, and accessories and have drop off depots and pick-up services.
5. Watch for electronic cleanup events.
Your province or municipality may hold regular or semi-regular "roundups" for gathering computer equipment and electronics for recycling - as do private companies now and again. Watch for these events in local newspapers, and on radio and Websites.
Computer recycling is the wise choice so hopefully there's an easily accessible computer recycling program near you. With the average lifespan of computers and electronic equipment ever shrinking, the more options the better.