Where to Get a Mortgage
About Mortgage Brokers and Bankers, Banks, S&L and Credit Unions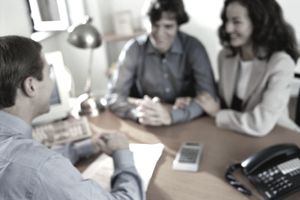 Most home buyers finance real estate, which means almost all home buyers will need to get a real estate loan. So what are your lending choices? Where can you get a real estate loan? Which type of real estate lender is best?
Unfortunately, there is no pat answer because the best choice for you depends on your personal situation, the type of property you want to buy and how the lender's rates compare within the lending community.
You can get a loan from a variety of sources such as:
Almost 25% of all the real estate loans made in the United States originate from mortgage brokers. This percentage has dropped in half from 2006. A mortgage broker is a middle-person who brings together lenders and borrowers. A mortgage broker can sometimes be a mortgage banker, but not all mortgage bankers are mortgage brokers.
Mortgage brokers each work with different lenders, sometimes hundreds. It's important to ask about the variety of products offered as this will vary from broker to broker. Your choices are dependent on the broker's number of working relationships.
Fees are paid by the buyer or lender or both.
Loans at "par" mean the buyer is not paying a fee.
Mortgage brokers can also operate as "up-front" mortgage brokers, meaning they will negotiate a fee directly with the buyer in exchange for shopping for the lowest (wholesale) interest rate & fees.
Commercial Mortgage Bankers
Commercial mortgage bankers, as you may have guessed, work for a bank. They may represent more than one bank but the loans they make are bank loans, funded by the bank.
Fees are generally not negotiable and are set by bank policy.
Loan products are limited to those the bank offers.
The banker may not be licensed as many are required only to be registered with a registry.
Commercial Banks
Citigroup, Bank of America, and Wells Fargo are good examples of well known commercial banks. Commercial banks offer a wide variety of services. In fact, you probably have a bank like this in your neighborhood.
Primary source of business is not making mortgage loans.
Bank rates are competitive.
Your bank may offer a discount or incentive on your loan if you maintain a checking or savings account at that institution.
Savings & Loan Associations
Savings and loans accept deposits from customers into savings / money market accounts and pay interest on those accounts. To prevent a relapse like the S&L crisis in the 1980s, President Bush in 1989 signed the Financial Institutions Reform, Recovery, and Enforcement Act of 1989 (FIRREA). Many savings and loans are now regulated by the Department of U. S. Treasury, Office of Thrift Supervision.
Primary source of business is making real estate loans.
Savings and loans do not make business or commercial loans but lend for construction, purchase or home improvement purposes.
The process for obtaining a mortgage is a bit easier than going to a commercial bank.
These institutions are regularly under attack by lending competitors because credit unions do not pay federal taxes and enjoy certain taxable advantages that other lending institutions do not. They are formed by a group of individuals with a common interest such as state government and community education employees or religious groups.
Customers must meet qualifications to be eligible for membership.
Interest rates and terms are typically very attractive and competitive.
Many credit unions do not sell their mortgage loans on the secondary market.
Private Individual

Anybody with money in the bank can make a real estate loan to you as long as they comply with federal and state regulations regarding such items as interest rates, fees and charges, and provide legally required disclosures.

Stock Brokerages & Online Lenders

You might be astonished to learn that the company handling your IRAs or mutual funds or online savings also makes mortgage loans. A few easily recognizable names are Capitol One, Charles Schwab, and Ditech.

If you need to shake hands with your loan officer in person, an online lender might not be for you.
Internet lenders seem to work best for sophisticated borrowers with great FICO scores who know exactly what they want.
Contact only reputable and known companies with secure sites, and stay away from fly-by-night operators.

At the time of writing, Elizabeth Weintraub, DRE # 00697006, is a Broker-Associate at Lyon Real Estate in Sacramento, California.