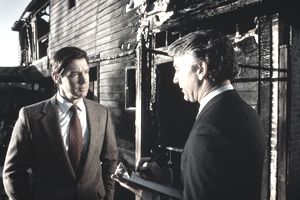 A public adjuster is a claims professional hired by a policyholder after a loss. This article describes the services an adjuster provides and some reasons you might consider utilizing one. It also outlines some questions you should ask a public adjuster before hiring him or her.
Serves As Your Advocate
A public adjuster protects the interests of the insured business. He or she serves as an advocate for the business throughout the claim process.
The adjuster's work is not completed until the claim has been settled.
Public adjusters do not work for insurance companies. If your company sustains a property or liability loss, your insurer will assign its own adjuster to manage the claim. If you choose to hire a public adjuster to assist with the claims process, he or she will deal with the insurer's adjuster on your behalf.
Insurers utilize two types of adjusters, staff adjusters and independent adjusters. Both work for the insurer. Staff adjusters are employees of the insurer. Independent adjusters are employed by an independent adjusting firm. An insurer may utilize staff adjusters, independent adjusters, or a combination of the two. 
What They Do
A public adjuster negotiates with your insurer to achieve the best possible claim settlement for your business. Here are some activities a public adjuster typically performs:
Analyzes your policy to determine the how much coverage it provides for your loss. The adjuster also determines what actions are necessary to fulfill the policy's claim reporting requirements.
Evaluates the loss and documents the damage
Provides an inventory of your property, both damaged and undamaged
Calculates your business income loss and extra expenses, if these are covered by your policy
Reviews and compares the estimates you have received to repair or replace your damaged property
Provides his or her own estimate of repair or replacement costs
Gathers information needed to file a claim
Completes claim forms
Submits claim documentation to the insurer on your behalf
Monitors the progress of your claim
Negotiates the best possible settlement of your claim with the insurer's claims personnel
State Requirements
Most states in the U.S. require public adjusters to obtain a license. The licensing requirements vary widely from state to state. Depending on the state, an adjuster may be required to do one or more of the following to obtain a license:
Submit an application to the state insurance authority
Pass a licensing exam
Have a minimum level of experience
Be fingerprinted
Disclose any criminal convictions, including felonies and misdemeanors
Complete a specified number of hours of continuing education during each license period
Pay a license fee
A public adjuster license remains in effect for a limited time period, typically one or two years. To maintain the license, the adjuster must apply for a renewal.
Many states require public adjusters to obtain a public adjuster bond, a type of surety bond. The bond is designed to protect policyholders. It guarantees that the adjuster will act in accordance with state laws. If the adjuster violates the law or commits fraud, the state insurance department may recover the amount of the bond on behalf of the affected policyholder.
Some states impose additional requirements in public adjusters. For instance, some prohibit an adjuster from performing any services for a policyholder unless the adjuster has engaged in a formal written contract with the policyholder.
Non-Resident License
Some states offer two types of adjuster licenses, a resident license and a non-resident license. The following example demonstrates how these licenses work.
Tom resides in State X, which requires adjusters to be licensed. To operate in State X, Tom must obtain a resident license there. Tom wants to work in State Y as well. Tom may be able to work in State Y by obtaining a non-resident license in that state.
The requirements for obtaining a non-resident license differ from one state to another. Some states will issue a nonresident license only if the adjuster passes a state exam, or meets certain educational or training requirements.
Alternatively, the adjuster may obtain a non-resident license automatically if the state in which the adjuster applies has a reciprocal agreement with his or her home state. For example, suppose that Tom applies for a non-resident license in State Y. If State X and State Y have a reciprocal agreement, Tom can automatically obtain a non-resident license in State Y as long as he is licensed in State X. 
Types of Claims
Most public adjusters handle first-party property claims only. They will help your business with claims involving physical damage to buildings and personal property caused by fires, windstorms and other perils covered by commercial property policies. Some adjusters specialize in certain types of losses, such as those involving roof damage, mold,  or water leaks. A minority of public adjusters handle casualty insurance claims. These may include third-party claims involving bodily injury, property damage, or product liability. Some adjusters also handle workers compensation claims.
Fees
Most public adjusters charge a fee that is a percentage of the settlement amount. The percentage is typically between 5 and 20% of the settlement but may be higher. The fees charged by adjusters are usually negotiable. Some states impose caps on the amount an adjuster may charge. These caps may not apply to public adjusters hired by businesses.
Reasons to Hire a Public Adjuster
The fees charged by adjusters can be substantial. Thus, you should utilize a public adjuster only when you think the outcome will justify the cost. Here are some reasons why you might hire one:
Lack of Insurance Knowledge Like many business owners, you may have a poor understanding of your insurance policies and the types of claims they cover. A public adjuster should be very familiar with the coverages involved and can explain in detail what is and what is not covered.
Unfamiliarity With Claims Process If you have never experienced a claim before, you may have little understanding of the claims process. A public adjuster knows this process well and can take charge of it on your company's behalf.
Inability to Assess Damage If your property has been damaged, you may lack the knowledge to assess the extent of the damage or the cost of repairs. This can put you at a disadvantage when dealing with your insurer's adjuster. A public adjuster ensure that your loss is properly valued so that you receive a fair settlement.
Business Income Losses Claims involving business income losses can be particularly confusing to policyholders. To obtain recovery for a loss, you must calculate the amount of income your business did not earn because of a shutdown that resulted from a physical loss. A public adjuster can calculate your loss and negotiate a proper settlement with your insurer.
Time Constraints Filing a claim is time-consuming. By hiring an adjuster to manage the claims process, a business owner can focus on the day-to-day operations.
Questions to Ask
There are a number of questions you should ask before hiring a public adjuster. First, be sure the individual is licensed, if your state requires adjusters to obtain a license.  Some state insurance departments allow you to check the status of adjuster licenses online.
Secondly, ask the adjuster whether he or she resides in your state. If the answer is no, ask how much work he or she has done in your state previously. The adjuster should be familiar with the laws in your area, including building codes. He or she should also have a good knowledge of local construction costs. This is an important consideration if your business is located in a high-cost state like Hawaii or California. If the adjuster is not local, ask how he or she will manage your claim from afar. You want someone who will stick with your claim until it is settled.
A third consideration is the adjuster's education and training. Ask about his or her background and experience. How long has the person worked as an adjuster? How much experience does he or she have working with claims like yours? Is the adjuster a member of a professional organization, such as the National Association of Public Insurance Adjusters?
Fourthly, ask for a list of references. The list should include businesses that suffered claims similar to yours. Call each person listed and ask whether he or she was happy with the results of the adjuster's work. Did the policyholder feel that the adjuster's services were worth the cost?
Be especially wary when hiring a public adjuster following a disaster like a tornado or flood. Like fraudulent contractors, sham adjusters may begin trolling for victims soon after an event has occurred. Don't hire someone who suddenly appears at your business location. If you want to hire a public adjuster, contact a reputable firm yourself.
Finally, it is important to remember that your insurer may not agree with your public adjuster's opinions regarding the extent of damage to your property or the cost to repair it. Moreover, your insurer is not obligated to pay your claim based on your adjuster's calculations.
Other Services
Some public adjusting firms provide other services besides adjusting. These may include the following:
Appraisals If you and your insurer disagree about the value of your damaged property, an adjusting firm may assist by providing an appraisal.
Expert Witness If you sue your insurer because of an issue with a claim, a public adjuster may testify on your behalf at a trial.
Risk Management Some adjusting companies provide risk control services similar to those provided by insurers. For instance, an adjusting firm may come to your premises and conduct a pre-loss assessment.