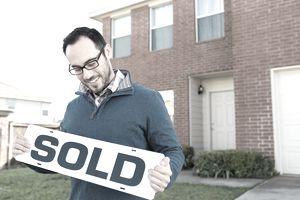 When is a house sold? Selling a house is a progression of steps. You also have state laws that govern certain types of purchases that could affect the finality of sale. Learn what those steps are below.
Signing a Contract
This is the first step, coming to an agreement on price and terms between the seller and the buyer. Generally, the buyer makes an offer, the seller either accepts the offer or issues a counteroffer.
The counteroffer procedure can result in a multitude of counter offers or just one counter.
At some point, there is a meeting of the minds. Then the listing status changes from an active listing to a pending sale. Some agents put up a sign that says "pending" or "in escrow" or "under contract." But your house is not yet sold.
Inspections
Almost every buyer in America, unless the buyer is living under a rock, is told to get a home inspection. Apart from a home inspection, other types of inspections are advisable as well, depending on a variety of particulars such as age, condition, and location.
Sometimes, if a buyer discovers an unexpected defect, the buyer might negotiate further with the seller. A buyer might threaten to cancel a transaction unless a seller agrees to conditions set forth in a request for repair. Even if a buyer is satisfied with the results of the buyer's inspections, your house is not yet sold.
When the Buyer's Loan is Approved
After all of the buyer's supporting documents have been received by the lender and the appraisal completed, the file goes to underwriting. The underwriting process can take anywhere from a few days to a few weeks.
The appraisal must support the agreed-upon purchase price.
If the appraiser submits a low appraisal, more negotiations will take place or a new appraisal might be ordered. But even after the loan is approved, your house is not yet sold.
A Contingency Sale
A buyer might need to close escrow on an existing home before the buyer can move forward with buying your home. This is known as a contingent sale, and that contingency might need to be satisfied or released to perfect your contract with the buyer.
One of the ways to satisfy a contingency is to sign a release of contingencies or perform some other acts such as depositing all funds to close escrow. But even if the buyer deposits in cash the entire purchase price, your home might not be completely sold, especially if the buyer, upon default, could be held liable only for liquidated damages.
When Your House Is Considered Sold
While you can consider your house is sold at any point along the line of home selling, your home is considered sold when you no longer own it. Your house is sold when the deed has exchanged hands and/or is recorded, and the funds have been disbursed.