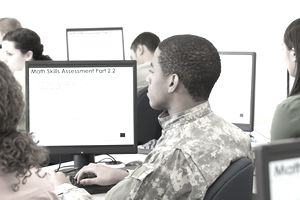 The Armed Forces Vocational Aptitude Battery (ASVAB) is the test the military uses to determine whether or not one has the mental aptitude to join the military, and -- if so -- what job(s) they may qualify for. The ASVAB is taken by more than one million military applicants, high school, and post-secondary students each year.
Anyone who enlists in the military must take this test. The overall percentile score, known as the "AFQT Score," determines whether or not one can even enlist (see Minimum ASVAB Score Requirements).
In addition to the overall AFQT Score, individual composite scores determine enlisted job qualifications.
There are many study guides available on the market devised to help individuals improve their ASVAB test results. However, not all of these study guides are created equally, and few of them are cheap. Some things you should consider to get the best bang for your buck:
ASVAB Test Score
The ASVAB consists of ten individual tests, but only four of the tests (Word Knowledge, Paragraph Comprehension, Arithmetic Reasoning, and Mathematics Knowledge) are used to compute the overall ASVAB Score (also known as the AFQT Score). This is the score that determines whether or not you are qualified to join the military. If your goal is to improve your overall score, you should choose a study guide which extensively covers the math and reading/vocabulary portions of the test.
Individualized Tests
On the other hand, the other six areas of the ASVAB Test (General Science, Auto & Shop Information, Mechanical Comprehension, Electronics Information, Numerical Operations, and Coding Speed) are used (in addition to the above four areas) to determine job qualification(s).
If your goal is to qualify for a specific job, you should choose a study guide which covers the specific areas of the ASVAB which are used for that particular job qualification.
Types of Test
There are three versions of the ASVAB; High School Version, Production Version, and Computerized Version. If you are taking the Computerized Version, which is given at most Military Entrance Processing Stations (MEPs), you should consider one of the study guides which include a CD-ROM, so that you can practice exactly as you will be taking the test.
Coverage
Some ASVAB study guides are simply practice versions of the test, while others go out of their way to explain the various subject areas, and give tips and examples on how to arrive at the correct answer. In general, the more pages the study guide has, the better the chances that the guide will provide detailed explanations.
More About the ASVAB Tests