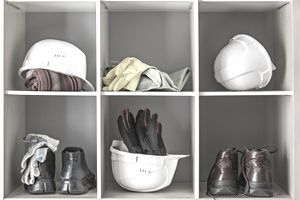 Virtually all businesses in the United States must comply with workplace standards published by the Occupational Safety and Health Administration (OSHA). This article will explain why OSHA was created, what it does, and what services it offers to small businesses.
Need for OSHA
At the turn of the 20th century, the American workplace was extremely hazardous. Many workers suffered severe injuries or were killed on the job.
The outlook for workers began to improve in 1911, when Wisconsin passed the country's first workers compensation law. Other states followed suit, and over the next 50 years workplace injuries gradually declined.
By the late 1960s workplace safety had improved. Yet, injuries and illnesses were still occurring at a relatively high rate. Some states had implemented workplace safety laws, but the laws were inconsistent. In many states, employers decided what, if any, safety standards were implemented in the workplace.
Congress determined that workplace injuries were having a devastating impact on workers. Such injuries were also generating huge costs that hindered interstate commerce. These costs included lost production and the money spent on workers compensation benefits. In 1970, Congress passed the Occupational and Safety and Health Act. The Act is based on the premise that all workers have a right to a safe workplace.
OSHA and NIOSH
The Occupational and Safety and Health Act established two key federal agencies, OSHA and the National Institute for Occupational Safety and Health (NIOSH). OSHA was created to administer and enforce the Act. NIOSH is a research organization. It conducts research on occupational safety and health, and makes recommendations to OSHA.
Since the Act was implemented, workplace accidents and injuries have declined substantially. According to OSHA, about 14,000 workers were killed on the job in 1970. By 2010, the workforce had practically doubled in size, but the number of workplace fatalities had dropped to about 4,500. Between 1970 and 2010, the rate of serious injuries dropped from 11 per 100 workers to 3.5 per 100 workers.
Covered Employments
The Occupational and Safety and Health Act applies to all employers and workers in the private sector. It is effective in all 50 states as well as Washington D.C, Puerto Rico and other U.S. territories. Twenty-two states operate their own OSHA-approved safety and health agency. OSHA monitors the state programs and helps support them financially.
The Act does not apply to employees of state and local governments. However, public sector workers are covered in states that operate their own occupational health and safety plans. In a few states, the state occupational and safety plan applies only to public sector workers.
Safety Standards
OSHA's mission is to assure safe and healthful conditions for all working men and women. To that end, it creates national standards for workplace safety.
Some standards are initiated by OSHA itself. Others are created at the request of other parties. If OSHA decides a new standard is needed, it may solicit recommendations from NIOSH or other organizations. Once it has drafted a new standard, OSHA publishes it in the Federal Register (a daily government publication). The agency then solicits feedback from the public during a comment period. After the rule has been finalized, OSHA publishes the completed version in the National Register.
All employers must comply with the General Duty clause of the Occupational Safety and Health Act. This clause requires employers to provide a workplace that is free of recognized hazards that are causing, or may cause, death or serious harm to employees. A  hazard is "recognized" if it is known (or should have been known) to the employer, or if it is recognized within the employer's industry.
The agency has developed standards for workers in each of the following categories:
Construction
Agriculture
Maritime
General Industry (all industries that don't fit one of the above three categories)
Many workplace hazards are subject to specific safety standards. For example, a head protection standard applies to all individuals who are subject to head injuries caused by falling or flying objects. Such workers must be protected by helmets. Likewise, an eye and face standard dictates that employees must use appropriate eye or face protection when working in areas where flying particles, molten metal or other hazards could cause eye or face injuries.
There are some workplace hazards for which no specific standard exists. Nevertheless, employers are obligated to protect workers from those hazards by the Act's general duty clause. For example, OSHA does not have a specific standard that addresses employees who work in a cold environment. Nevertheless, employers are required by the general duty clause to protect workers and from injuries caused by exposure to cold.
When a certain hazard isn't addressed by a specific standard, OSHA may implement an awareness campaign. An example is OSHA's campaign to prevent heat-related illnesses among outdoor workers. The agency offers fact sheets, posters and training materials that employers can use to educate and protect workers.
Administrative Requirements
In addition to complying with OSHA standards, employers must adhere to OSHA's reporting and recordkeeping requirements. For example, once an employer becomes aware of a work-related death, he or she must report the incident to OSHA within eight hours. Employers must report any hospitalization, amputation or loss of an eye within 24 hours. Recordkeeping duties vary by industry. Most employers must keep records of serious injuries.
Employers are also required to display the official OSHA poster. The poster outlines workers' rights and employers' obligations under the Act. Employers must display the poster in a prominent location at the workplace. The poster is available free of charge at OSHA's website.
Enforcement
Safety standards aren't effective unless they are enforced. Thus, enforcement is one of OSHA's main responsibilities. The agency's primary enforcement mechanism is workplace inspections. An inspection may be conducted for one of the reasons cited below. These are listed in order of priority, beginning with the most important.
there is imminent danger to employees
a catastrophic injury has occurred that resulted in hospitalization or death
a worker has submitted a complaint
the employer operates a business in a high-hazard occupation or has a high rate of injuries
a previous inspection has been conducted and a follow-up is needed
Workplace inspections are conducted without advance notice. They may be performed on-site or by telephone or fax. After the inspection is completed, OSHA issues a report that outlines any citations and proposed penalties.  Generally, only serious or repeated citations are subject to fines. 
Whistleblower Protection
The Occupational Safety and Health Act provides whistleblower protections for employees. The Act gives workers the right to report safety problems to their employer or OSHA. Workers may submit complaints to OSHA anonymously. They may request an OSHA inspection if they believe their workplace is unsafe or unhealthy. 
The Acts bars employers from retaliating against any workers who have exercised their right to report unsafe working conditions. This means that employers cannot fire, demote, threaten or take other adverse action against employees as punishment for reporting safety issues. Workers who believe they have been a victim of retaliation by their employer may file a complaint with OSHA. 
Education and Training
Worker training is a requirement of many OSHA standards. Thus, OSHA and its state partners offer a variety of training options for employers and their workers. Educational materials, such as videos, safety booklets, fact sheets and posters, may be downloaded from OSHA's website. The site includes a Training and Reference Materials Library, which provides information on specific subjects like asbestos, construction, and ergonomics.  
Some OSHA publications are applicable to a wide range of businesses. An example is a five-module training course for preventing slips, trips and falls. Other publications are specific to certain industries, such as construction or shipyards.
Obligations to Small Businesses
Under a law passed in 1996, OSHA has special obligations to small businesses. For instance, OSHA must publish a compliance guide when issuing certain types of standards. The guide is intended to help small business owners understand the actions they must take to comply with the standard.
OSHA is also obligated to solicit input from small businesses if a new standard is expected to have a significant effect on them. If small businesses believe new rules or regulations will negatively impact them, they can challenge those rules in court.
Small Business Resources
OSHA offers a variety of resources for small businesses at its website (www.osha.gov). You can find them by searching for "small business resources". Here are some of the services that are available.
On-Site Safety Consultations You can request a free safety inspection of your workplace. These inspections are performed by state employees. They are not regular OSHA inspections. The inspector will point out potential hazards and suggest remedies. You will receive a written report, but the results will not be reported to OSHA inspectors. No citations or fines will be levied.
On-Site Health Hazard Evaluation NIOSH provides free health hazard evaluations at the request of the employer or employees. Assistance is available by phone, in writing, or via a visit to your workplace by a NIOSH representative.
Cooperative Programs OSHA helps employers improve workplace safety by creating partnerships with individual employers or employer groups.
SHARP Employers that have received an on-site consultation may be eligible for the Safety and Health Recognition Program (SHARP). Participation in this program demonstrates that a company maintains an exceptional workplace safety plan. To participate in SHARP, a an employer must correct all hazards identified in the consultation report. It must fulfill other requirements as well, such as maintaining certain records and filing various reports.
Compliance Assistance Compliance assistance specialists are available for workshops and seminars. They educate employers about standards and the resources available to help them comply.