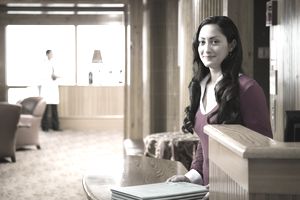 Are you starting a hospitality job and not sure what to wear? When you work at a job in the hospitality industry, you will most likely be given some sort of uniform or specific guidelines about what to wear to work. Review these general guidelines for what to wear, and also check with your manager or Human Resources department for information on the dress code for your employer.
What to Wear for a Restaurant Job
In a restaurant, the bar and wait staff will typically be asked to wear solid colored slacks or a skirt, a solid colored button down, collared, or logo shirt, and comfortable closed toe shoes.
Sometimes there will be an apron or hat to pull the look together.
Chefs, cooks, and their assistants typically wear a chef coat with slacks and comfortable closed toe shoes. Sneakers may be acceptable, but there may be guidelines about color or style, ask your supervisor if you have any questions.
What to Wear for a Hotel Job
Hotels often require uniforms or offer very specific guidelines for what to wear to work. As an employee, you are a representative of the hotel, and you need to dress appropriately.
Do keep jewelry to a minimum, piercings and tattoos covered when possible, and hair and makeup conservative. Invest in comfortable, closed toe shoes, as you will spend a lot of time on your feet, and sneakers are often not allowed.
What to Wear for a Resort or Spa Job
Resorts, spas, and clubs vary in their dress code according to your position, and their location. A tropical resort is going to have more casual standards than a spa in a metropolitan city.
There may well be a uniform required, or a jacket or coat to wear with your own conservative clothing, and comfortable, closed toe shoes.
Remember Comfortable Shoes
Attractive, comfortable footwear is a requirement in any hospitality position. Hospitality positions keep you on your feet during your shift, and there is little more difficult than maintaining a friendly helpful face when your feet are killing you.