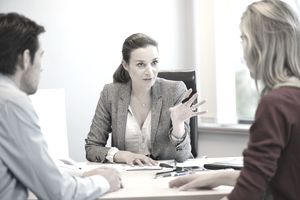 Are you a thinker? If you enjoy pondering questions that may not have concrete answers, weighing alternative points of view and explaining your beliefs to others, philosophy may be a good major for you.
The biggest question you may have to answer, though, is "why philosophy?" You (not to mention your parents) may wonder what career will result from this field of study. As a philosophy major you will come out of school with a skill set that is highly valued in many occupations.
For example, you will learn how to think critically, analyze information, solve problems and convey complex ideas to others both orally and in writing. Here are several alternative careers for you to consider. Some of them may require, or at least benefit from, additional education.
Judge
Judges preside over trials and hearings. They listen to lawyers as they present their clients' cases, making sure the proceedings are conducted fairly. Philosophy students, having been trained to consider opposing points of view, are very good at this aspect of the job. Many judges arrive at the bench after working as attorneys, but 40 states in the US allow non-lawyers to be judges. If you do want to go to law school, majoring in philosophy can help you get a good score on the admission test. Studies have shown that it is among the
highest-scoring majors
on the LSAT.
Clergy
Members of the clergy, including rabbis, ministers and priests, perform religious rituals, provide spiritual guidance and educate people in the practice of their faiths.
Trained to consider life's biggest questions, philosophy majors can provide guidance to their congregants who are searching for answers. A degree in philosophy provides a good foundation for someone who wants to work in the clergy, but he or she will also need an advanced degree in theology.
Mediator
Mediators help clients settle disputes without going to court. They work with both parties that are involved in the matter, offering suggestions that will allow them to come to an agreement without entering into litigation. Mediators must be able to listen objectively as both sides present their cases. They must also be adept at clearly explaining complex information. Philosophy majors are skilled in doing both.
Human Resources Specialist
Human resources specialists recruit, hire and retain companies' or organizations' employees. Philosophy majors can call upon their problem solving skills and objectivity to do their job which sometimes involves resolving workplace conflicts. A dual major or minor in business or human resources can complement a degree in philosophy. Some HR specialists go on to earn an MBA.
More About Human Resources Specialists
Public Relations Specialist
Public relations specialists work for companies, organizations and governments, communicating with the public on their behalf. Their expertise lies in their ability to present, orally and in writing, complex information. Studying philosophy is good preparation for that aspect of the job. Internships at public relations firms can help one finesse some of the other skills needed for this occupation, for example establishing relationships with the media and public speaking.
More About Public Relations Specialists
Marriage and Family Therapist
Marriage and family therapists help clients—families, couples and individuals—manage disorders that include anxiety, obsessive-compulsive disorder, depression and addiction. They conduct therapy by taking into account the impact of family dynamics on individuals' mental health. The ability to look at various sides of issues is an important skill and one with which philosophy majors are well-endowed. To work in this occupation, one must earn a master's degree in marriage and family therapy.
More About Marriage and Family Therapists
Network Systems Analyst
Network systems analysts evaluate software and hardware, make recommendations about purchases, maintain network servers, and design and implement systems. They need good problem solving and analytical skills. Majoring in philosophy can help you hone those skills, but a bachelor's degree in computer and information systems is also needed.
More About Network Systems Analysts
News Anchor
In addition to presenting news reports on tv broadcasts, news anchors also analyze and interpret these stories. A degree in philosophy is good preparation for this occupation as it equips one with the ability to analyze information as well as clearly present it. While some employers prefer job candidates who have degrees in journalism or mass communications, many are willing to consider those who have majored in other subjects.
Management Analyst
Management analysts improve companies' profitability and efficiency, and help them change their structures. They must be able to think critically, looking at all sides of an issue before coming up with a solution. While a degree in philosophy gives you these skills, an MBA can provide you with other ones that will make you successful in this occupation.
More About Management Analysts
Market Research Analyst
Market research analysts collect and analyze data about consumers in order to determine their purchasing preferences. They design surveys and train interviewers to conduct them. Market research analysts need strong critical thinking skills in order to look at the information they collect and determine what it means and how to best utilize it.
More About Market Research Analysts