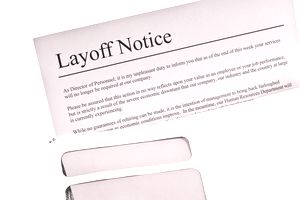 Have you lost your job? If so, you're not alone. There are always companies that are cutting jobs or restructuring operations. It's a normal part of conducting business in today's economy.
How to Handle a Layoff
You may, however, be able to turn a layoff into a new career. Here's how to handle unemployment, start a job search, and more advice on what to do when you get laid-off.
Prior to the actual news, rumors of downsizing often run rampant through an office so employees may be at least somewhat prepared for a layoff announcement.
In other cases the news is a surprise - you're shocked, unpleasantly surprised, and not at all sure what do next.
Check Your Benefits
If you do have an inkling that there's going to be bad news be prepared to ask what benefits terminated employees are eligible for. If you've already been laid-off and haven't been informed about benefits, call the Human Resources department at your former employer or your manager to request information on the status of your benefits:
Ask about severance pay, accrued vacation, overtime and sick pay, pension benefits, and eligibility for unemployment insurance.
Severance packages may be negotiable. You have nothing to lose by asking for more than what's offered.
Request information on continuance of health and life insurance benefits. Your employer, if the firm has over 20 employees, is mandated by law to offer health insurance coverage through COBRA to terminated employees for at least 18 months. However, it is worth asking if you will be covered for a certain period of time at no cost to you.
Assess Your Goals
Refocus your energy and use this unexpected windfall of time as an opportunity to reassess your career goals and to get on track to find a new position.
Many job seekers have turned a termination into a positive experience. A forced departure from a job has often opened a path to a new, more satisfying, and better paying career that wouldn't have been considered under other circumstances.
Start a Job Search
An important task for those unemployed, and for that matter, for all job seekers, is to create a "Job Search Action Plan". Before you can implement the plan, however, you need to take care of the basics. The most important issue, in most cases, is income. Call or visit your state unemployment office as soon as you can to determine if you are eligible for unemployment benefits. If you can't make ends meet, and many of us can't, on an unemployment check consider freelancing or taking a temporary position to supplement unemployment.
Get Help
Don't be proud - your temporarily reduced circumstances may entitle you to food stamps or other government benefits. Remember you paid for those benefits out of every paycheck you earned. Your state's Social Services department can inform you what assistance you qualify for. If you are a member of a church, ask if there is any help available. Community organizations often have resources to help the unemployed with food baskets, donations, and babysitting assistance.
Community resources are also available to help with the mechanics of your job search. Many state employment services and public libraries have internet access as well as access to software and printers to produce your resume. They also may have counselors who can provide resume and cover letter writing and job search assistance.
Unemployment
Where to file for unemployment, how to file, what you need, eligibility requirements, disqualifications, extended benefits and more unemployment insurance information.
Ten Steps to Find a New Job
Ten steps to take to find a new job, including where to look for jobs, the top job sites, how to use your connections, how to ace the interview, and how to follow up.