What to Do After Attending a Professional Conference
What You Do After You Return to Work Is Important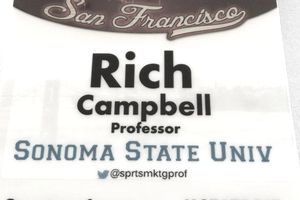 In this space I've written extensively about the topic of attending professional conferences for career development. 
There have been articles on how to prepare for conferences, how you will benefit from conferences, tips for starting a new conference and insights from specific sports related conferences like MIT's Sloan Sports Analytics Conference, IE's Sports Analytics Summit and the Sports and Entertainment Alliance in Technology event.
Another topic to consider is what to do after attending a professional conference, seminar or trade show.  Without further ado, here is a list of behaviors that will help you continue to reap the benefits of attending the event long after it has concluded:
Engage Via Social Media  The conference does not have to end the day you check out of your hotel and return home.  The opportunities to stay connected with people you encountered during the conference experience are ample. And the easiest way to keep that engagement going is by utilizing social media.  Each conference uses a designated hashtag on Twitter (examples #SEAT2015 #SSAC15) where attendees tweet during the event.  Even if you did not use Twitter during the conference, searching the appropriate hashtag post-conference is a great place to identify professionals who will continue to provide great content you can use and learn from on a year round basis. In doing so, you may also discover other conferences those folks attend, further expanding your conference opportunities.
Connect on LinkedIn  After the conference concludes, identify 5-10 people you interacted with personally at the conference and send each of them a LinkedIn invitation.  Be sure to include specific context from your conversation at the event, as they may have interacted with more people than you did.  About a month after you have made the connection on LinkedIn, be sure to follow up with a note or a link to a pertinent article that provides value to them, in order to help you stand out relative to their hundreds (or thousands) of LinkedIn connections.
Write an Article about the Conference  As illustrated by my links to articles above, writing about what you learned at the conference is an important part of your post conference behavior.  Writing a blog post or article after you return from a conference provides a plethora of benefits.  First, during the conference it helps keep you on track because you have to take detailed notes in order to craft an article (or two) after you return to your every day routine. Plus, once you are back in the office, reviewing your notes will help reinforce key lessons you want to bring back to your work environment.  Finally, the article you write will help in your efforts to engage with other attendees via social media and can be forwarded to your new LinkedIn connections.
Read about the Conference  While writing about the conference will provide benefits, so will reading recaps other provide.  If there were multiple tracks, there was no way you could hear all the panels and speakers.  Reading others' articles can get you up to speed on what you missed and provide additional opportunities to generously share those articles across your social media networks.
Following these four tips when you get home from a conference will greatly enhance the cumulative value of the experience.