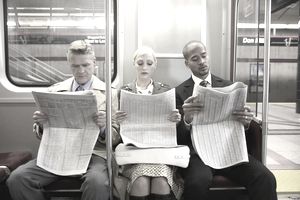 Newspapers have long suffered at the hands of newer forms of media. For younger generations, waking up to read the paper has never been a habit. But if newspapers manage their brand equity with skill, they can survive and become a valuable part of daily life. Take a look at what's in store for the newspaper industry.
Newspapers Must Face Reality
Critics have been saying the newspaper is dead for years, while some in the newspaper industry have stubbornly resisted such a claim, mostly out of their emotional attachment to print.
The truth is somewhere in the middle.
Nationally-read papers such as USA Today, The New York Times and The Wall Street Journal exist in their own universe, because they have such a wide reach that they can withstand the pressures facing papers with a smaller footprint. USA Today is owned by Gannett, while The Wall Street Journal is owned by News Corporation. Both of those companies have a portfolio so vast that any financial struggles can be absorbed by profits at their other properties. In contrast, The New York Times has shed its other properties, like its local TV stations, to focus solely on its namesake paper. These papers have the resources to make it.
Local papers don't have that same safety net. That's why some that are struggling with selling newspaper advertisements to boost revenue are doing what had been unthinkable. They are scaling back their print editions, only putting out newspapers three or four days a week.
While that brings instant relief to the bottom line, it's also dangerous. For those people who have read the hometown paper every morning, their daily routine has been disrupted. They have been introduced to some mornings with no newspaper. Those days, they'll likely go somewhere else to get their dose of information, likely the Internet.
Since the Internet is available 24/7, they may start wondering if they even need a sporadically-delivered newspaper at all.
Sunday Is Payday for Newspapers
Many newspapers have no problems with their Sunday editions. That's their payday, when they have the thickest paper with all the sales inserts that readers still expect. Sunday is also the day that readers tend to unwind and want to sit on the couch with something other than a phone or other mobile electronic device.
Newspaper companies should decide whether they can exist with only a print edition on Sundays. That decision should be made after conducting focus group research into whether to offer electronic-only content Monday through Saturday, designed for people on the go, with a totally separate product on Sundays, with thoughtful, well-researched stories that the Internet, TV and radio can't and won't provide.
It would be like running two separate media companies. Clearly, it wouldn't work for every newspaper, because all the people who are paid to run the printing presses have to work more than one day a week. But it would cut down on newsprint costs, which have been one key reason newspapers have struggled financially and have had to raise their prices.
Papers could give up print entirely. Granted, that would defy the traditional definition of a newspaper. But that would follow the lead of some news magazines, like Newsweek and U.S. News & World Report. This isn't a magical strategy that will guarantee success, but it would use a newspaper's trusted name and brand in a new way.
What the Newspaper Industry Does Best
In trying to be everything to all people, newspapers have ended up serving no one in particular. That's why papers should return to what worked for them during their glory years.
Newspapers built their reputation on providing more than shallow coverage of events. If you believe that TV news is a mile wide and an inch deep, then newspapers should be the opposite.
That can mean a return to quality investigative reporting. Or in-depth coverage of a big event that the TV stations have only covered in a superficial way.
Newspapers also beat TV when it comes to producing college football guides or "The Best of the Area" awards to businesses that readers have selected for outstanding service or products. There is a vast array of information that newspapers provide that no other form of media can match. Above all, most newspapers have a trust with the audience that TV stations don't. It was built on reliable, accurate journalism and not the kind of personality-based, flashy chatter that engulfs some TV news departments.
When it comes to newspaper survival strategies, there's not a one-size-fits-all solution. In some ways, it might be easier to start a new news business, rather than have to save an existing newspaper with all of the expectations surrounding what a newspaper should be. But a new business doesn't have the brand value that most newspapers have. That's the building block that can support all of the tough decisions newspaper executives have to make in order to operate successfully.