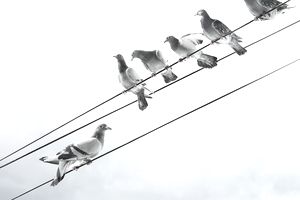 What Are Leadership Skills?
Leadership is the ability to guide a group of people toward a common goal. It is not one specific skill that makes one a good leader, but rather a set of them. Each is valuable on its own, but taken together, these leadership skills allow an individual to succeed in certain occupations or advance through the ranks of an organization. To be an effective leader, you must be able to:
Communicate Verbally: A strong leader must be able to impart information to others.
Listen: Good listening skills will allow you build rapport with your subordinates, understand their concerns, and answer their questions.
Persuade: Good leaders don't simply demand their workers follow their commands blindly. They convince them that it is the best thing to do.
Use Critical Thinking to Make Decisions and Solve Problems: When making decisions and solving problems, you must know how to compare various actions and solutions regarding their costs and benefits.
Delegate Work to Others: Even if you have the know-how to do every task, which is highly unlikely, it is much productive to assign work to those who can perform it as or more effectively.
Organize Your Own and Others' Work: Good organizational skills will allow you to complete work efficiently and help those you lead to do the same.
Take Responsibility for Yours and Your Subordinate's Mistakes: An effective leader doesn't blame others for his own mistakes, and because he is responsible for his subordinates' work, he also shares ownership of their errors.
Persevere: No matter how difficult things become, and how often your plans get thrown off course, if you are tenacious, you will be able to reach your goals.
Adapt to Change: When things don't go as expected, which often happens, flexibility is of the utmost importance. If you can adjust your plans, you will have a better chance of succeeding and helping your team move forward.
Build Relationships: As a leader you must develop good working relationships with both your subordinates and superiors.
Show Respect for Your Subordinates: If you want those under your authority to respect you, you must also demonstrate that you respect them.
Support Others: It should always be evident to those who work for you that you are on their side when it comes to helping them reach their goals.
Manage Crises: Good leaders respond quickly and effectively when problems arise.
Careers That Require Strong Leadership Skills
Excellent leadership skills are required in many occupations, especially if you aspire to a managerial position. Here are some careers for which this skill set is especially important: