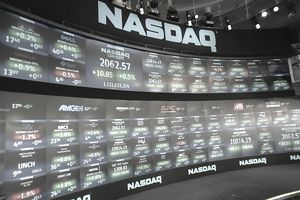 The NASDAQ is an electronic exchange where stocks are traded through an automated network of computers instead of a trading floor.  It stands for National Association of Securities Dealers Automated Quotations System and is the world's second largest stock exchange based on market capitalization.  It trades listed stocks as well as over-the-counter (OTC) stocks.  As a general rule of thumb, it is where most technology stocks are traded.
 A quick way to tell if a company is listed on the NASDAQ is to check out the ticker symbol - those made up of four letters are listed here (e.g. Microsoft = MSFT, Dell Computers = DELL, Cisco = CSCO).
How The NASDAQ Was Created
In 1971, the National Association of Securities Details (NASD) set out to invent and create the world's first electronic stock market.  When it opened its doors on February 7, 1971, the NASDAQ couldn't execute trades, instead it provided automated quotations.  In the years following its founding, the NASDAQ began regularly facilitating OTC trading, so much so that NASDAQ became synonymous with OTC and was often referred to as an OTC market in the media and trade publications.  Later, they added automated trading systems the could create trade and volume reports, and became the first exchange to offer online trading.  Now, in 2016, the NASDAQ lists over 3,200 companies and boasts the highest trade volume in the US market.
NASDAQ Trading Hours
Just like the New York Stock Exchange (NYSE), the NASDAQ is open for trading between 9 AM ET and 4:30 PM ET.  However, NASDAQ offers traders "pre-market" and "post-market" hours.  Pre-market hours are from 4:00 AM to 9:30 AM ET, and post-market hours are from 4:30 PM to 8 PM ET.
NASDAQ Listing Requirements
For a stock or security to be listed on the NASDAQ electronic exchange, a company must meet certain requirements based on their finances, liquidity, and corporate governance, be registered with the Securities Exchange Commission (SEC), and have at least three market makers.
 Once their application is submitted, it may take anywhere between 4 and 6 weeks for their listing to be approved.
NASDAQ U.S. Market Tiers
Based on the listing requirements, a company's stock will be listed in one of the three following market tiers.  Companies listed in the Global Select Market must pass the most stringent requirements, while those listed in the Capital Market must pass the least stringent requirements.
Global Select Market
This composite is made up of the stocks of 1,200 U.S. and international companies and is weighted based on market capitalization.  As I previously mentioned, companies listed here must pass NASDAQ's highest standards.  Global Market listings are surveyed annually by NASDAQ's Listing Qualifications Department and will move them to the Global Select Market if eligible.
Global Market
NASDAQ's Global Market consists of 1,450 stocks of companies listed in the United States and internationally.  It is considered to be a mid-cap market. 
Capital Market
Once called the SmallCap Market before NASDAQ changed the name, you'll find a large list of companies with smaller market capitalizations.