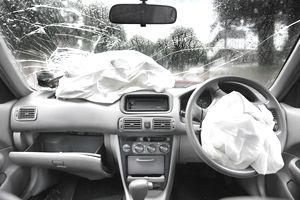 Car insurance claims come in all shapes and sizes. Some are very minor and some are life altering. Knowing the most common type of car insurance claim can make you aware of the danger and potentially prevent it from happening to you. Luckily, the most common claim is a minor one, windshield damage. Insurance companies pay out millions of dollars each year for windshield repairs and replacements.
Most Common Type of Windshield Damage
A stone chip is the most common type of windshield damage.
Think of all the pea gravel roads, all the semis kicking up rocks, the acorns falling from the trees, the potential for a chipped windshield is really endless. Vandalism, flying objects, and storm damage can also play a role in windshield car insurance claims.
What Coverage Protects You Against Windshield Damage?
Comprehensive coverage is the hero coverage when it comes to fixing windshields. The best part is if you have a chipped windshield and a deductible on comprehensive, most insurance companies allow you to get the chip filled without paying a deductible. It is definitely a perk if you do not have $100+ available to spend on a new windshield right now. The chip usually cannot be larger than a dollar bill or within the driver's line of sight in order to be filled.
Is the Vehicle Who Kicked Up the Rock At Fault?
No, you are not going to be successful in going after the vehicle which kicked up the debris.
It is not really in anyone's control. Most likely the other vehicle has no idea a rock was sent flying in your direction. When it comes to flying debris, your vehicle's comprehensive coverage will cover you. Don't even worry about chasing down the other vehicle, it is not in anyone's best interest.
How to Avoid a Chip In a Windshield
Be aware of your surroundings. Be on the look out for loose gravel and drive at a reduced speed in those areas. 
Look out for those big trucks. Semis, snow plows, and garbage trucks are all common culprits of kicked up stones. Do not tailgate and always allow 12 to 15 seconds of space in between you and the next vehicle.
Do Not Drive With a Damaged Windshield
Driving with a cracked windshield is not only dangerous but illegal too.
It can block your view impairing your vision
It can lower the structural integrity of your car
It can increase the chance of flying glass shards in an accident
It can prevent your air bag from deploying properly in an accident
Almost anywhere a ticket can be issued for driving with a damaged windshield
Procrastinating on fixing a chipped windshield is a bad idea. Even a few days can mean the difference between an easy chip fill and a whole windshield replacement. A chip can easily turn into a large crack so do not wait to get your windshield repaired.
Towing Claims Come In At a Close Second 
Roadside assistance covers a broad range of car owner needs especially mechanical breakdown requiring a tow and lock out. As you can imagine, lots of drivers need these services and roadside assistance is a very popular coverage since it is very convenient and usually inexpensive.
Have you filed a windshield claim or tow claim recently? Do you think the claim was avoidable?
Let's Connect! Please Follow Me on Twitter @CarInsReview
More Help With Comprehensive Claims