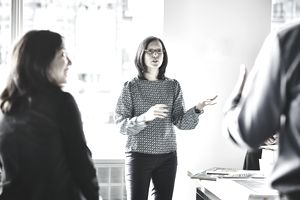 Meeting professionals perform a wide range of tasks to ensure an event runs smoothly - from locating event venues to booking support services and managing budgets, to managing a team of vendors and other event planners.
Certified Meeting Professional (CMP) Credential
The Convention Industry Council (CIC) launched the Certified Meeting Professional (CMP) program in 1985 to enhance the knowledge and performance of meeting professionals, promote the status and credibility of the meeting profession and advance uniform standards of practice.
Today, more than 12,000 individuals in 34 countries have earned this designation, which is based on professional experience and a rigorous examination. A CMP designation shows that an individual is dedicated to the profession; it also conveys expertise in planning, managing and executing successful meetings and events.
Those who are interested in earning their CMP often participate in study groups to prepare for the required application and formal examination. Study groups are commonly formed in local chapters of MPI and PCMA, and other CIC member organizations.
How to Become a CMP
The CMP certification program is a two-part process: complete the CMP application followed by a written examination that covers the functions performed in meeting management. Examinations are typically scheduled two times each year (spring and winter) and also during the IMEX Show held annually in Frankfort, Germany.
Application
To quality for application eligibility, individuals must earn a minimum of 90 points out of a total of 150 points from the following:
Experience in meeting management (35 points max)
Management responsibility (50 points max)
Education and continuing education (25 points max)
Membership in a professional organization (10 points max)
Professional contribution to the field (30 points max)
Examination
The CMP examination is pencil and paper based and is comprised of 165 multiple choice questions. The examination contains 150 operational questions (scored) and 15 non-graded questions (referred to as pre-test questions). And it is only offered in the English language.
Pre-test questions are newly written or revised questions. These questions are included on the examination in order for CIC to obtain statistics on the performance of each question. Non-graded (pre-test) questions are inserted randomly through out, are not labeled as a pre-test and do not contribute to a candidate's score. Pre-testing allows CIC to remove any problematic questions and add only valid and reliable questions to the examination question bank.
The examination blueprint (effective January 2007) is categorized into 5 domain areas, 49 tasks, and 230 knowledge topics. The five domain areas include the following:
Strategic event planning process (24%)
Financial and contract management (20%)
Facilities and services (18%)
Logistics (20%)
Programs (18%)
According to the Convention Industry Council, the certification program is valuable to:  
"enhance the knowledge and performance of meeting professionals,
promote the status and credibility of the meeting profession, and
advance uniform standards of practice.
The CMP exam was developed and is maintained by meeting professionals from all over the world who volunteer their time to ensure that the program reflects the best practices in the meeting management field. More than 10,000 meeting professionals in 55 countries around the globe hold the CMP designation."
Eligibility Requirements
According to learn.org, "In order to qualify for the CMP designation, you'll need to meet industry experience and continuing education/internship requirements. You'll need either three years of experience and recent employment in the field, or a bachelor's degree in a related field, along with two years of professional experience. College instructors with at least three years of industry experience are also eligible to take the exam.
The second component of eligibility requires a 200-hour internship in the industry or completion of 25 hours of continuing education within the past five years."
CMP Recertification
CMPs are required to renew their certification every five years. To be recertified, CMPs must earn a minimum of 60 points on the recertification application; there is no exam required. All points claimed must be earned within the past five years, since the date of initial CMP certification or last renewal. Therefore it is important that you keep track of all your activities each year even after receiving the CMP.
The CIC offers a free online Candidate Handbook. For more information, contact the CIC or any of the CIC professional membership organizations. Is certification necessary? Find out here.