What is RV Insurance? Detailed Coverage for All Types of RVs
RV Insurance Break Down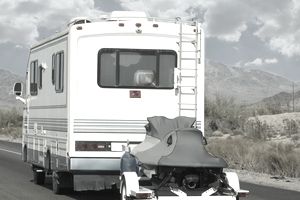 With so many different types of recreational vehicles in existence, a single policy sometimes can't handle multiple types of recreational vehicles. But at the same time, not many people own multiple campers. Recreational vehicles, also known as RVs, come in all shapes and sizes. Motor homes, fifth wheels, popup campers, and travel trailers are all types of RVs. RV insurance may or may not be required depending on what type of RV you own.
The main difference in coverage comes between motor homes and campers. Any vehicle driven on the road is required to be insured and that includes motor homes. The minimum liability for your state is required in order to be driving legally. More coverage is available and optional unless required by a lender.
Standard Motor Home Coverage
Limited Property Damage
Property Protection
Since campers are towed behind a vehicle and not driven, RV insurance is optional according to state law. Only a lender can require full coverage to be carried in order to secure its interest. With a newer camper it is recommended to carry full coverage so you do not lose your investment; however, if you do not have a secured loan the coverage is optional.
Standard Camper Coverage
Aside from the standard set of coverage on RV policies, companies often offer specialized coverage.
Specialized coverage can really come in handy at the time of loss. Things you may not think of prior to a claim such as custom equipment and personal effects can be costly if you do not have the coverage included on your RV policy. Most companies offer specialized coverage on both motor homes and campers.
Specialized Coverage
Total Loss Replacement
Custom Equipment
Roadside Assistance
Vacation Liability
Personal Effects
Total loss replacement is usually only available on previously untitled RVs up to one model year old. Other RVs are insured for agreed value or actual cash value. A claim can be difficult enough, make sure you know how your RV insurance policy reads so you are not surprised at the time of a loss.
Custom equipment is an important coverage for those RVs with custom parts. If you have upgraded your interior, or tricked out the exterior you'll want to increase the automatic limit. A standard policy usually comes with a $1000 limit of coverage. With the high price of custom equipment, it is easy to go over the standard limit. Remember if you are customizing your RV; keep track of how much you invest in custom equipment.
Vacation liability is commonly included with a set limit of $10,000 as long as comprehensive and collision coverage are selected. It pays up to specified limits for bodily injury and property damage as a result of an accident that takes place while the RV is used as a temporary vacation residence. Higher limits are available. Vacation liability is usually only available for pleasure users.
Roadside assistance covers towing for a disabled RV. It provides towing to the nearest qualified repair facility and necessary labor at the time and place of disablement when RVs are disabled due to:
Mechanical or electrical breakdown
Battery failure
Flat tire
Lock-out
Insufficient supply of fuel oil, water, or other fluids
Entrapment in snow, mud, water, or sand within 100 feet of the roadway
Personal effects are not usually included on a RV policy. The personal effects coverage will cover your belongings in a covered loss while vacationing in an RV. A homeowner's policy might cover your belongings; however, your deductible would apply. Check your homeowner's policy to verify coverage.
Specialized coverage is just that, specialized. Nothing is wrong with insuring just the RV and opting out of all the extras.
Make what you want clear to your agent when purchasing the policy so you are not paying extra for all the bells and whistles, although as mentioned above several are automatically included at no additional charge.
RVs are a popular form of vacation for many Americans. It is a great escape from city and suburban life. Enjoy your vacation time without worrying about a potential loss. Know whether you need RV insurance, and what coverage to purchase if you do.