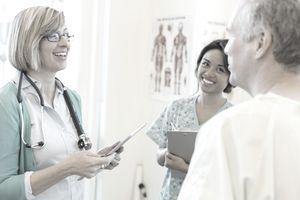 Obamacare is the Patient Protection and Affordable Care Act of 2010. Most people think it only affects health insurance, but it has already changed the way America delivers health care itself. There are at least nine ways Obamacare affects you that you probably don't know about. 
The most important part of this Act requires you to have health insurance for at least nine months out of every twelve or be subject to a tax.
 The tax is 2.5 percent of your income unless certain conditions apply. In December 2017, Congress repealed the tax effective 2019 in the Tax Cuts and Jobs Act. Find out if you are exempt from Obamacare. 
The name was created by critics of President Obama's efforts to reform health care, but it stuck. Even the President Obama liked it because he says it shows he cares.  
How It Affects You
The health insurance exchanges are open for enrollment between November 1, 2018, and December 15, 2018. If you miss the window, you can still use the exchanges to buy interim private insurance or apply for Medicaid. You can also use them to compare plans for the future. Some exchanges are run by states and some by the federal government. Keep in mind you should compare not just your monthly premium, but your anticipated overall health care costs. That includes annual deductible, percentage covered and copayments.
If you already have insurance, you can keep it if: 
It was in existence before March 23, 2010. In that case, it's been grandfathered in.
Your employer keeps its plans. But many companies used this opportunity to drop coverage, or change how they provide it.
Your insurance company keeps your plan. Many have canceled plans that don't meet the minimum requirements, as detailed in the first section below. 
Here's more on what Obamacare is, customized to your personal situation:
If You Already Have Insurance – All insurance plans must provide services in 10 essential health benefits. Health insurance companies can't exclude those with pre-existing conditions. They also cannot drop those who get sick. Parents can put their children on their plans up to age 26. If your plan began before March 23, 2010, then it might be "grandfathered in" and not have to provide all these benefits. But even if you have insurance, it will be worth your time to compare it on the exchanges. 
If you have Medicare, the "doughnut hole" gap in coverage will be eliminated by 2020.
If You Can't Afford Insurance – Medicaid was extended to those who earn up to 138 percent of the federal poverty level. But not all states have elected to expand Medicaid, even though the federal government subsidizes it. If you live in a state where you are eligible for Medicaid, but the state won't give you coverage, you won't have to pay the tax if you can't get insurance. 
The poverty level usually increases each year to keep up with inflation. Those who earn too much for Medicaid will receive tax credits if their income is below 400 percent of the poverty level.
The credit is applied monthly, rather than as an annual tax rebate. There are also reduced copayments and deductibles. To find the most recent income brackets, see How Much Will Obamacare Cost Me?  
If You Don't Get Insurance
You must have coverage for nine months out of twelve to avoid Obamacare taxes. It could be as high as 2.5 percent of your income. There are minimums and maximums that apply.
The exchanges are open until December 15, 2017. There are special circumstances here. You can always sign up for private insurance or Medicaid. You can also use the exchanges to begin researching plans for next year. Find out How to Get Obamacare.
If You Make More Than $200,000 a Year - Taxes increased in 2013 for individuals making more than $200,000 a year ($250,000 for married couples), some healthcare providers, and other health-related businesses.
If You're a Business Owner - If you have 50 or more employees, you must provide insurance to at least 95 percent of full-time employees or pay a fine. For more, see Treasury Press Release.
If you have 50 or fewer employees, you are eligible to look for better employee coverage on the SHOP exchange. For more about how the Act affects you, depending on which group you're in, see How Will Obamacare Affect Me? 
In Depth: Pros and Cons | ACA Benefits | Obamacare Explained | How It Works | What's Wrong With Obamacare | Summary | How Preventive Care Lowers Health Care Costs
For more on Obamacare, see my book The Ultimate Obamacare Handbook.