Commercial Real Estate and the Economy
You Can Use REITs to Invest in Commercial Real Estate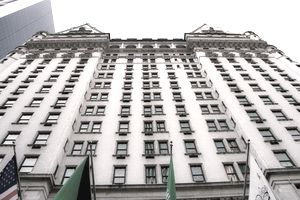 Definition: Commercial real estate is any property owned for the purpose of producing income. There is about $6 trillion worth of commercial real estate in the United States. Here are the five largest categories of commercial real estate.
Retail includes indoor shopping malls, outdoor strip malls and big box retailers. It also includes grocery stores and restaurants. Its value is around $2.1 trillion, or 36 percent of the total value of commercial real estate. It consists of at least 9.5 billion square feet of shopping center space.
Hotels include motels, luxury resorts and business hotels. This category does not include homes that rent out rooms through Airbnb. There are roughly 4.4 million hotel rooms worth $1.92 trillion.
Office buildings include everything from Manhattan skyscrapers to your lawyer's office. There are roughly 4 billion square feet of office space, worth around $1.7 trillion, or 29 percent of the total.
Apartment buildings are commercial real estate. That's because companies own them only to turn a profit. That's why homes rented by their owners are residential, not commercial. Some reports include apartment building data in statistics for residential real estate instead of commercial real estate. There are around 33 million square feet of apartment rental space, worth about $1.44 trillion.
Industrial property is used to manufacture, distribute or warehouse a product. It's not always considered commercial, especially in land use plans and in zoning. There are 13 billion square feet of industrial property worth around $240 billion.
Other commercial real estate categories are much smaller. These include some non-profits, such as hospitals and schools. Vacant land is commercial real estate if it will be leased, not sold. (Source: "Signs of Recovery," The Wall Street Journal, October 5, 2010. "Statistics About the Real Estate Industry," The Real Estate Roundtable.
"Commercial Real Estate Indices," Standard & Poor's.)
How Does Commercial Real Estate Affect the Economy?
As a component of GDP, commercial real estate construction contributes 3 percent of U.S. economic output. In 2017, there was $564 billion of commercial real estate construction. The record high was $586.3 billion in 2008. The low was $376.3 billion in 2010. That represented a decline from 4.1 percent to 2.6 percent of GDP. 
Why did it take commercial real estate construction two years longer to peak than the housing bubble? Commercial real estate construction simply takes longer than residential real estate construction. Builders first need to make sure there are enough homes and shoppers to support new development. Then it takes time to raise money from investors. It takes several years to build shopping centers, offices and schools. It takes even more time to lease out the new buildings. When the housing market crashed in 2006, commercial real estate projects were already underway.
You can usually predict what will happen in commercial real estate by following the ups and downs of the housing market.  As a lagging indicator, commercial real estate statistics follow residential trends by a year or two.
They won't show signs of a recession. They typically hit their low well after residential real estate.
How to Invest in Commercial Real Estate
A Real Estate Investment Trust is a public company that develops and owns commercial real estate. Buying shares in a REIT is the easiest way for the individual investor to profit from commercial real estate. You can buy and sell shares of REITs just like stocks, bonds or any other type of security. They distribute taxable earnings to investors, similar to stock dividends. REITs limit your risk by allowing you to own property without taking out a mortgage. Since professionals manage the properties, you save both time and money. 
Unlike other public companies, REITs must distribute at least 90 percent of their taxable earnings to shareholders. This saves them the business tax cost, which is paid by the shareholder at the capital gains tax rate.
REITs own 34 percent of the equity in the commercial real estate market. That's the second-largest source of ownership. The largest is private equity, which owns 43.7 percent. (Source: "Scaling New Heights," National Association of Realtors, 2015.)
Pros and Cons of REITs
Since commercial real estate values are a lagging indicator, REIT prices usually don't rise and fall with the stock market. That makes them a good addition to a diversified portfolio. REITs share an advantage with bonds and dividend-producing stocks in that they provide a steady stream of income. Like all securities, they are regulated and easy to buy and sell. (Source: "What Is a REIT?" REIT.com)
Keep in mind that the value of your REIT reflects more than just the underlying real estate. It's also affected by the demand for REITs themselves as an investment. They compete with stocks and bonds for investors. So even if the value of the real estate owned by the REIT rises, the share price could fall in a stock market crash. 
When to Buy and Sell REITs
When investing in REITs, be sure that you are aware of the business cycle and its impact on commercial real estate. During a boom, commercial real estate could be experiencing an asset bubble after residential real estate starts to decline. During a recession, commercial real estate hits its low after residential real estate.
REITS Versus Real Estate ETFs
Real estate exchange-traded funds track the stock prices of REITs. Investors are attracted to ETFs because they have very low fees. But since they are one more step removed from the value of the underlying real estate, they are more susceptible to stock market bull and bear markets. (Source: Joanne Cleaver, "The Pros and Cons of Investing in Real Estate ETFs," U.S. News & World Report, June 5, 2014.)
Commercial Real Estate During the Financial Crisis
Commercial real estate lending has recovered from the 2008 financial crisis. In June 30, 2014, the nation's 6,680 FDIC-insured banks held $1.63 trillion in commercial loans. That was 2 percent higher than the peak of $1.6 trillion in March 2007.
The first signs of decline in commercial real estate occurred three years after residential real estate prices started falling in 2006. By December 2008, commercial developers would face between $160 billion and $400 billion in loan defaults if they weren't able to find banks to refinance them. Most of these loans had only 20-30 percent equity. Banks now require 40-50 percent equity.
Unlike home mortgages, loans for shopping centers and office buildings have big payments at the end of the term. Instead of paying off the loan, developers typically refinance. If funding isn't available, the banks must foreclose. 
Loan losses were expected to reach $30 billion and pummel smaller community banks. They weren't as hard hit by the subprime mortgage mess as the big banks, but had invested more in local shopping centers, apartment complexes and hotels. Many feared the meltdown in small banks could have been as bad as the Savings and Loan Crisis 20 years ago.
A Washington trade association for developers, the Real Estate Roundtable, estimated that about $300 billion of short-term commercial real estate loans matured in 2008. A lot of  those loans could have gone bad if they were not refinanced. 
By October 2009, the Federal Reserve reported that banks had only set aside $.38 for every dollar of losses, which could reach 45 percent of the $3.4 trillion outstanding debt. Shopping centers, office buildings and hotels were going bankrupt due to high vacancies. Even President Obama was informed of the potential crisis by his economic team.
The value of commercial real estate fell 40-50 percent between 2008 and 2009. Commercial property owners scrambled to find cash to make the payments, since many tenants had either gone out of business or renegotiated lower payments. Owners tried trying to raise cash by selling shares of new stocks. Because they used the funds to support payments on existing properties, they couldn't increase value to the shareholders. They diluted the value to both existing and new shareholders. New stockholders were likely just "throwing good money after bad." (Source: Interview with John Cona of TARP Capital.)
By June 2010, the mortgage delinquency rate for commercial real estate was continuing to worsen. According to Real Capital Analytics, 4.17 percent of loans defaulted in the first quarter of 2010. That's $45.5 billion in bank-held loans. It is higher than both the 3.83 percent rate in the fourth quarter of 2009 and the 2.25 percent rate a year ago. It's much worse than the 0.58 percent default rate in the first half of 2006, but not as bad as the 4.55 percent rate in 1992.
By October 2010, it looked like rents for commercial real estate had begun stabilizing. For three months, rents for 4 billion square feet of office space only fell by a penny on average. The national office vacancy rate seemed to stabilize at 17.5 percent, lower than the 1992 record of 18.7 percent, according to real estate research firm REIS, Inc.
The financial crisis left REIT values depressed for years. Why? One reason is it was difficult to see the foreclosed properties REITs bought during the crisis. A second is that owners of commercial real estate were upside-down in their mortgages. Their commercial property values had dropped 40-50 percent since 2008, lowering the value of REITs. (Source: Mark Heschmeyer, "CRE Lending by Banks Surpasses Pre-Recession Levels," CoStar News, September 3, 2014.)
Commercial real estate loans almost caused a second recession. In 2013, banks held $991.2 billion in commercial loans, a 3.3 percent increase over 2012. Most were for apartment buildings. About a third came due between 2015 and 2017. Most were written in 2005-07 when property values were high. These loans could have defaulted if apartment building prices had dropped. Instead, people who had lost their homes became renters, saving the loans from defaulting and the economy from another recession.