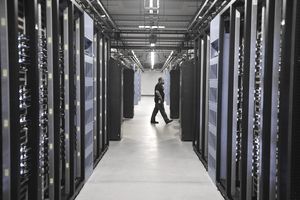 BATS Global Markets is a stock exchange operator located in Lenexa, Kansas. It runs four U.S. stock exchanges: BZX, BYX, EDGA, and EDGX. It also operates BATS Options and BATS Chi-X Europe, the biggest pan-European stock market. 
BATS provides an all-electronic alternative trading platform. Its goal is to provide better technology, with lower costs, while maintaining better customer service. It was created to avoid the kind of technology problems plaguing the New York Stock Exchange and the NASDAQ.
Ironically, BATS suffered a flash crash itself when it listed its own Initial Public Offering (IPO) on its own exchange. On March 23, 2012, BATS was forced to withdraw its IPO when the stock price plummeted from $15 a share to just pennies. The crash pushed Apple's stock down 9%, forcing a temporary halt in its trading. It prompted the SEC to investigate high-frequency trading exchanges, including BATS. (Source: Bloomberg, The Epic Fail of the Worst IPO Ever, March 23, 2012)
On September 26, CBOE Holdings Inc. agreed to purchase BATS. It will use the advanced order matching system to lower costs on the Chicago Board Options Exchange. BATS will continue to run its current exchanges. The merger will achieve economies of scale in operational costs.  That could lead to lower costs for investors.  (Source: "BOE-Bats Tie Up Seen as Opportunity to Reduce Trading Costs," Pensions&Investments, October 13, 2016.)
BATS History
BATS was founded in June 2005.  At that time, BATS was an acronym for "Better Alternative Trading System."  It received SEC approval to become an actual stock exchange (BATS BZX) in October 2008. It launched a BATS exchange in London that same year, and opened a second U.S. exchange (BATS BYX) two years later.
The two U.S. exchanges have different pricing policies. Together, they account for 13% of all U.S. stock trading. 
In 2011, BATS acquired Chi-X Europe Limited, the largest cross-border trading center in Europe. Unlike the Deutsch Bourse or the London Stock Exchange, it allowed trading across 15 major European markets, with just one platform and rule book. 
In 2013, BATS announced it would merge with Direct Edge to create the second largest stock exchange, trading fewer shares than the NYSE Euronext but more than the NASDAQ. 
In January 2015, BATS agreed to pay a record $14 million penalty levied by the SEC. Its two recent Direct Edge Holdings acquisitions hadn't gotten SEC approval for its rules governing how orders were placed.  Instead, they favored some of their clients by giving them inside knowledge about how the rules operated. The BATS penalty was higher than the $10 million paid by Nasdaq to settle its bungled Facebook IPO. (Source: John McCrank, "BATS Exchange Group to Pay Record $14 Million U.S. SEC Fine," Reuters, January 12, 2015)
In February 2015, it replaced founder Joseph Ratterman as CEO with Chris Concannon, a former NASDAQ and Virtu Financial executive. He is expected to restart BATS IPO process, only this time on one of its competitors, NASDAQ or NYSE.
(Source: Bradley Hope and Chelsey Dulaney, "BATS Global Markets Names Chris Concannon as CEO," Wall Street Journal, February 24, 2015.)
Stock Market FAQ