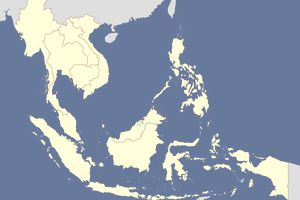 Definition: ASEAN is the Association of South East Asian Nations. It promotes the economic growth of 10 countries located south of China. Its combined economies grew 4.4% in 2015 and are expected to grow 4.9% in 2016. (Source: ASEAN Summit Statement, p. 8.)
ASEAN's total economic output, as measured by gross domestic product, was $6.9 trillion. That makes it the 7th largest in the world. This was about a third of China's $19 trillion GDP.
 ASEAN members need this combined economic clout to compete with the world's largest economy. 
ASEAN's purpose is to form a European Union type of common market. The ASEAN Economic Community was established in 2015. It is working toward free movement of goods and services, investment and capital, as well as skilled labor.  It will also create common standards in agriculture and financial services, intellectual property rights, and consumer protection. These are all necessary to attract foreign direct investment and promote growth. AEC has identified 611 measures it must implement to achieve its goals. As of October 31, 2015, nearly 80% of these measures have been completed. 
ASEAN is lowering trade tariffs on 99% of its products to the 0.5%. Rice is excepted since it is so important to local economies. ASEAN is working to make regulations and product standards uniform among the nations. 
The multilateral trade agreements between ASEAN and its neighbors lessen these countries' need for the World Trade Organization (WTO).
Communication among these long-standing enemies in the name of trade means that they realize the preeminent importance of economic prosperity for all, regardless of ancient grudges and even democratic principles. (Source: ASEAN web site. Channel News Asia web site. China People's Daily web site.)
Member Countries and Their Economies
ASEAN has 10 members.
The two largest economies are both founding members Indonesia and Thailand. The other eight countries hope to boost their much smaller economies by exporting to the markets of the larger countries.
| Member | Joined | GDP (in billions) | Exports |
| --- | --- | --- | --- |
| Brunei Darussalam | January 7, 1984 |        $33 | Oil |
| Cambodia | April 30, 1999 |        $54 | Clothing, Wood |
| Indonesia | August 8, 1967 |   $2,839 | Palm oil, Machinery |
| Laos | July 23 ,1997 |        $38 | Wood, Coffee |
| Malaysia | August 8, 1967 |      $814 | Electronics, Oil  |
| Myanmar | July 23, 1997 |      $268 | Natural gas, Wood |
| Philippines | August 8, 1967 |      $742 | Electronics, Machinery |
| Singapore | August 8, 1967 |      $469 | Electronics, Machinery |
| Thailand | August 8, 1967 |   $1,105 | Autos, Computers |
| Vietnam | July 28, 1995 |      $551 | Clothing, Food |
| TOTAL |   |    $6,913 |   |
| China |   |  $19,510 | Electronics, Clothing |
History
ASEAN was created on August 8, 1967, in Bangkok, Thailand.  It was founded by Indonesia, Malaysia, Philippines, Singapore, and Thailand. On December 15, 2008, ASEAN approved a new charter, giving the organization status as a legal entity. All member countries must ratify it.
ASEAN 3
ASEAN+3 is the term that refers to the countries of ASEAN plus China, Japan and South Korea.  It was formed in the aftermath of the 1997 Asian financial crisis.
  The East Asia Vision Group  was formed to created a vision for cooperation among all 13 countries to prevent another crisis from happening again. 
ASEAN Summit
Each year,  ASEAN holds a summit hosted by one of its members. On February 15, 2016, President Obama held a historic U.S.-ASEAN Summit. The United States committed to support ASEAN countries' maritime rights in the South China Sea. China has been extending its reach by building islands. 
The South China Sea runs right through ASEAN's territory. It is a hotly contested group of tiny islands that are sitting on potential reserves of 5.4 billion barrels of oil and 55.1 trillion cubic feet of natural gas. It is also one of the richest fisheries in the world.
Most important to the U.S is the South China shipping lane. Through it goes half of the world's merchant fleet tonnage, representing $5.3 trillion in global trade.
Of that, $1.2 trillion winds up at U.S. ports. In addition, one-third of the world's crude oil are also shipped through the Sea.
For that reason, former Secretary of State Hillary Clinton declared at the 2010 ASEAN Summit that the freedom of navigation through the Sea was of national interest. To back that up, the Navy will base 60% of its forces to the Pacific by 2020 (up from 50% now). Many fear that rivalry over competing claims in the South China Sea could lead to armed conflict in the region. (Source: "A Game of Shark and Minnow," The New York Times Magazine, October 27, 2013.)
The 23 Summit was held on October 9, 2013, in Brunei Darussalam. The group recommitted to realize the ASEAN Community by 2015. After the ASEAN member met, the ASEAN+3 and the U.S. met. Non-ASEAN members were jockeying for economic clout in the region. China seemed to eclipse the U.S. when President Obama sent Secretary of State John Kerry instead. Obama had his hands full with the government shutdown. China announced the formation of an Asian investment bank. 
ASEAN and China
China is ASEAN's largest trading partner, with $367 billion traded in 2014. ASEAN exported $150 billion and imported $216 billion from China during that time.  ASEAN is China's third-largest trading partner, after the United States and the EU.
However, the nations are also wary of China's ability to dominate the area. They don't want cooperation to lead to their absorption by their neighbor.
RCEP
ASEAN is negotiating the Regional Comprehensive Economic Partnership with Australia, China, India, Japan, Korea, and New Zealand. It is an economic cooperation and trade agreement that began in May 2013. N