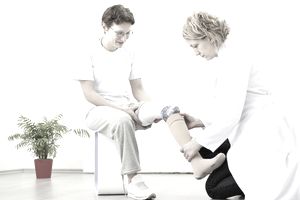 An orthotist designs orthopedic braces called orthoses. A prosthetist creates artificial limbs commonly referred to as prosthetics. Although each may specialize in one type of medical supportive device—orthoses or prosthetics—many practitioners work with both. They are often just referred to as orthotists-prosthetists, or O & P professionals.
Quick Facts
Over 8,000 people worked in this field in 2014.
Medical equipment manufacturers employed most O & P professionals. Others worked for O & P health care facilities, doctors' offices and hospitals.
Hours are usually full time.
The U.S. Bureau of Labor Statistics classifies this as a "Bright Outlook" occupation because of its excellent job outlook. Employment is expected to grow much faster than the average through 2024.
How to Become an Orthotist and Prosthetist
After graduating from college with a bachelor's degree in any subject you choose, you must then earn a master's degree in orthotics and prosthetics. It will take about two years to complete your advanced degree. Your education will include classroom as well as clinical training. During clinical training, you will have the opportunity to work under an experienced orthotist-prosthetist's supervision putting into practice what you learned in the classroom.
The Commission on Accreditation of Allied Health Education Program (CAAHEP) accredits O & P programs and provides a list of them on its website. While you aren't required to attend an accredited program, it can benefit your career if you do. After you graduate, you will have to do a one-year residency in either orthotics or prosthetics or a combination of the two.
A graduate of an accredited master's level program may become a certified orthotist or prosthetist, or both. Certification can make you a more competitive job candidate, and it is mandatory in some states that require a license to practice. The BOC (Board of Certification/Accreditation) and the American Board for Certification in Orthotics, Prosthetics & Pedorthics offer certification to individuals who have completed post-graduate clinical residencies accredited by the National Commission on Orthotic and Prosthetic Education (NCOPE). Candidates for certification must pass a series of written and practical examinations. Certified practitioners must maintain their credentials by participating in continuing education.
What Soft Skills Do You Need to Succeed in This Career?
In addition to the education you receive in the classroom and the practical experience you acquire through your clinical training, you also need certain soft skills, or personal qualities, to succeed as an orthotist or prosthetist. They are:
Verbal Communication: A big part of your job will involve explaining to customers how to care for their braces and prosthetic devices. You will also have to talk to the technicians who make them.
Active Listening: Strong listening skills will allow you to understand your patients' questions and concerns.
Interpersonal Skills: In addition to listening and speaking skills, you must also be able to show empathy and sympathy toward your patients, and understand their non-verbal communication.
Critical Thinking: Your ability to identify and evaluate alternative solutions will help you solve problems and make decisions.
Service Orientation: Orthotists and prosthetists must have an inclination to help people.
Roles and Responsibilities
What can you expect your job duties to be if you become an orthotist or prosthetist? We looked at several online ads on Indeed.com to find answers to this question:
"Performs a comprehensive assessment of the patient to obtain an understanding of the patients' orthotic or prosthetic needs"
"Examines patients to obtain the measurements needed to design custom-made orthoses or devices."
"Designs, makes, fits, modifies, repairs and maintains O&P devices"
"Assesses quality of finished devices when fitted to patients"
"Instructs patient in use of prosthesis"
What Will Employers Expect From You?
What qualities do employers seek when they hire new orthotists and prosthetists? Here are some requirements from actual job announcements on Indeed.com:
"Candidates must be motivated individuals who possess a professional clinical presence"
"Ability to multitask and work in high stress situations"
"Ability to address conflicts in an appropriate manner, working towards the best interest of the patient/family and department"
"Possesses and maintains good physical stamina and mental health"
"Pleasant demeanor"
Related Occupations
|   | Description | Median Annual Wage (2014) | Minimum Required Education/Training |
| --- | --- | --- | --- |
| Pedorthist | Makes, fits and repairs orthopedic devices for the feet. | $35,580 | HS diploma or equivalency + pre-certification course |
| Physical Therapist | Helps restore patients' functions and mobility and relieves their pain | $82,390 | Doctor of Physical Therapy (DPT) degree |
| Audiologist | Diagnoses hearing and balance problems | $73,060 | Doctor of Audiology (Au.D.) degree |
| | Diagnoses and treats eye disorders and diseases | $101,410 | Doctor of Optometry (O.D.) |
Additional Sources:
Bureau of Labor Statistics, U.S. Department of Labor, Occupational Outlook Handbook, 2014-15 (visited January 28, 2016 ).
Employment and Training Administration, U.S. Department of Labor, O*NET Online (visited January 28, 2016).
The Orthotics, Prosthetics and Pedorthics (HOPE) Careers Consortium, OP Careers (visited January 28, 2016)