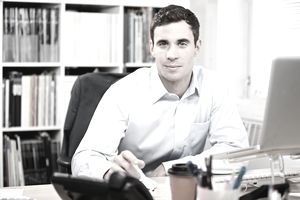 An office clerk performs clerical tasks in a school, library, hospital, medical office, government agency, or business. His or her job is to provide administrative support, such as answering and directing phone calls, greeting visitors, and sorting and distributing mail. Alternative job titles for office clerk include office support clerk, clerk-typist, or office assistant.
Quick Facts
In 2016, office clerks earned a median salary of $30,580 annually or $14.70 per hour. 
As of 2014, about 3,063,000 people worked in this occupation.
Office clerks are employed in all industries.
Just 25% of jobs are part-time.
The U.S. Bureau of Labor Statistics predicts employment will grow more slowly than the average for all occupations, yet job prospects will be good. There will be a significant number of job openings due to the need to replace workers who retire or move on to other occupations. Opportunities will be best in the healthcare industry. The BLS classifies it as a "Bright Outlook" occupation.
A Day in an Office Clerk's Life
What is it like to be an office clerk? Job announcements on Indeed.com inform us about some of the typical duties:
"Operate copy, scanning, and mailing equipment"
"Answer telephone, type documents, file, and perform all other office tasks"
"Deal directly with customers either by telephone, email, or face to face"
"Maintain accurate and efficient records"
"Keep inventory of office supplies"
"Retrieve data or correspondence from files as requested within an appropriate time frame"
What Do You Need to Know to Be an Office Clerk?
To get a job as an office clerk, you will have to know how to perform general office tasks. You must be able to use a computer, including word processing, presentation, spreadsheet, and database applications.
You should also be familiar with operating typical office equipment like copiers, fax machines, and scanners. In addition, you need strong telephone etiquette and customer service skills.
Many jobs do not require more than a high school or equivalency diploma. Employers provide on-the-job training to new workers. Others will only hire job candidates who have taken courses to learn about office procedures and computer applications. Look for programs with titles like Administrative Business Technology, Administrative Support and Office Clerical Services at vocational schools and community colleges. You can earn an associate degree or a certificate.
What Soft Skills Do You Need to Succeed in This Career?
Active Listening: The ability to listen carefully to what your boss and coworkers are telling you will allow you to understand and follow instructions.
Speaking: You must be able to convey information to others.
Time Management: You should know how to prioritize tasks to complete them promptly.
Social Perceptiveness: You need to understand why people react as they do and respond accordingly.
The Truth About Being an Office Clerk
You will spend most of your day sitting in front of a computer. This could cause back and eye problems, and some studies show that sitting for extended periods of time is bad for your overall health.
Your job will be entirely indoors. If you want to spend your day outdoors, you should consider doing something other than being an office clerk.
While your job is essential to the functioning of the office, your boss may also expect you to do menial jobs like making coffee and running errands.
What Will Employers Expect From You?
Here are some requirements from actual job announcements found on Indeed.com:
"Multi-tasking skills are highly recommended for success in this position"
"Must be a team player and be able to work independently"
"Self-motivated and willing to take initiative toward goals"
"Able to communicate effectively with all members of the team"
"Strong verbal and written communication skills"
Is This Occupation a Good Fit for You?
Related Occupations
| | | | |
| --- | --- | --- | --- |
|   | Description | Median Annual Wage (2014) | Minimum Required Education/Training |
| Secretary or Administrative Assistant | Performs clerical and administrative tasks | $34,820 | HS or Equivalency Diploma |
| Library Assistant | Helps organize materials in a library | $25,220 | HS or Equivalency Diploma |
| Human Resources Assistant | Provides clerical support for an organization's human resources department | $39,020 | HS or Equivalency Diploma |
| Information Clerk | Tends to routine office tasks and provides information to customers | $27,920 | HS or Equivalency Diploma/Some College Courses or an Associate Degree |
| Paralegal | Supports attorneys by helping them get ready for trials and hearings | $​49,500 | Bachelor's or Associate Degree in Paralegal Studies |
Sources:
Bureau of Labor Statistics, US Department of Labor, Occupational Outlook Handbook, 2016-17 (visited September 13, 2017).
Employment and Training Administration, US Department of Labor, O*NET Online (visited September 13, 2017).