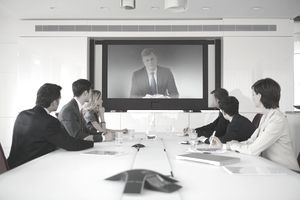 More and more employers are using web based job video interviews to screen candidates for employment. In some cases, hiring managers will conduct screening interviews via video. In other cases, most of the interview process takes place using video. Oracle, for example, uses HireVue's video interview technology to interview candidates in locations as diverse as Dublin and Bucharest.
Video Interview Benefits for Employers
The use of video interviewing is growing.
It started with high tech companies, but diverse employers are increasingly aware of the benefits of web based video interviewing. There is consistency - all candidates are asked the same set of questions.
Questions can be specifically tailored for the job the employer is hiring for. Hiring managers have the opportunity to replay, review, and rate the interviews online, so they can compare candidates without having to remember who said what or review their notes.
After hiring managers review the video interviews, they can select certain candidates for managers to review. Again, the manager can see each candidate answering the same questions, and can compare the responses. For the employer, video interviewing can save time and hiring expenses, because there are reduced travel costs and management time.
Video Interviewing for Candidates
How about for you, the candidate for employment? Can video interviewing help you get the job?
It can, if you prepare thoroughly. A good video interview can be as effective as an in-person interview. It's important though to understand how the process works, so you can interview professionally.
HireVue is a premier provider of recorded video interview services and conducts HireVues around the world every day.
Mark Newman, HireVue's COO, graciously spent some time with me reviewing video interviewing, how it works, and how applicants can make sure their interview is competitive.
The Video Interview Process
The company selects candidates for video interviews.
Arrangements for an interview are scheduled - at home with your own webcam, a company office, an off-site location with a webcam setup, or via a webcam sent to the applicant.
A tutorial will provide instructions on the webcam and the interview.
There will be 10 - 15 questions related to the job the company is hiring for.
The applicant will have 30 seconds to read the question and two minutes to respond.
Mark also shared his suggestions on how to get ready for a video interview and how to make sure your interview goes well.
Video Interview Tips
Review all the instructions. Ask for help (which is typically available online or by telephone) if you're not sure how the webcam works or if you have questions.
Follow the directions.
Dress appropriately in professional interview attire, just like you would for an in-person interview.
Practice - if you have a webcam, record yourself to see how you appear on camera.
Be aware of your surroundings and the lighting.
Look at the camera, not down at the desk or table.
It's important to remember that a video interview is a "real" interview, just like when you interview in an office. Your answers will be weighed and selection decisions will be made, just as they would if the interview was in-person. In fact, given that the interview can be scored and reviewed, it can be even more important than a typical first round phone or screening interview.