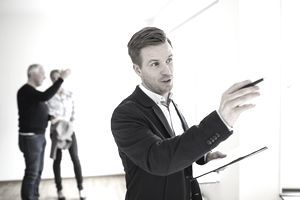 A real estate appraiser estimates the value of a property when it is sold, mortgaged, taxed, insured or developed. His or her work is similar to that of an assessor, but instead of considering the value of several properties at once, a real estate appraiser looks at one property at a time.
Quick Facts
In 2015, median earnings for appraisers and assessors were $51,860 annually or $24.93 per hour.*
There were almost 86,000 people employed in this field in 2014.
Most appraisers work for local governments or real estate companies.
About 25% of them were self-employed.
Most jobs are full-time positions.
Real estate appraisers have a fair job outlook. The U.S. Bureau of Labor Statistics expects employment to grow only as fast as the average for all occupations through 2024. The availability of jobs is dependent upon the regional real estate market.
*The U.S. Bureau of Labor Statistics does not report separate employment figures for appraisers.
A Day in a Real Estate Appraiser's Life
To find out what it is like to work as a real estate appraiser we looked at job announcements posted on Indeed.com.
"Gather, verify and analyze data on residential properties including, but not limited to, measuring structures, physically inspecting the exterior and interior of buildings, photographing property, analysis of market sales and noting architectural quality and intended use of the property."
"Assist or conduct internal or in-house appraisals and valuations"
"Keep abreast of current real estate market conditions and their effect on the apartment and commercial real estate markets in assigned geographic area"
"Assist in the construction of financial models including discounted cash flow"
"Responsible for data management including collection, verification and analysis of sales, pending sales and listings, as well as maintaining other information required for the valuation process"
"Maintains property records by indicating any changes in the property"
"Be a team player that wants to be a part of something bigger than just his/her job"
"Prepares and defends division in informal and formal appeal proceedings with assistance as needed from senior appraisers and manager"
How to Become a Real Estate Appraiser
Real estate appraisers must have at least a bachelor's degree. Coursework should be in subjects including economics, finance, mathematics, computer science, English, and business or real estate law.
Real estate appraisers need a license issued by the state in which they work if they are appraising properties for transactions that involve federally insured banks or financial institutions. The Appraiser Qualifications Board (AQB) sets minimum standards for education, experience and examination requirements that each state must follow when issuing licenses. You can find more information about the AQB's standards on The Appraisal Foundation website.
What Soft Skills Do You Need?
In addition to a bachelor's degree and a state-issued license, you will also need these soft skills, or personal qualities, to succeed in your job:
Listening Skills: To be able to meet your clients' needs, you must understand what they are telling you.
Critical Thinking: The ability to compare various alternatives when making decisions or solving problems is essential.
Reading Comprehension: You must be able to understand written documents.
Writing Skills: A big part of your job will be writing reports.
Verbal Communication: You will need the ability to clearly convey information to clients.
What Will Employer Expect From You?
We again perused job announcements on Indeed.com to discover the qualities employers look for when hiring workers. Here is what we found:
"Exceptional analytical and narrative writing skills"
"Lifts (up to 50 pounds), and carries items necessary to complete an inspection"
"Ability to handle multiple priorities and meet deadlines in a fast paced environment while maintaining client turn time and specifications"
"Strong technical skills including proficiency in the use of electronic communications and document exchange via the Internet"
"Ability to perform detailed work with a high degree of accuracy"
"Strong math and analytical skills"
"Ability to handle reasonably necessary stress"
Is This Occupation a Good Fit for You?
Holland Code: ECR (Enterprising, Conventional, Realistic)
MBTI Personality Types: INTJ, ESTJ, ISTJ, ESFJ (Tieger, Paul D., Barron, Barbara, and Tieger, Kelly. (2014) Do What You Are. NY: Hatchette Book Group.)
Occupations With Related Activities and Tasks
|   | Description | Median Annual Wage (2015) | Minimum Required Education/Training |
| --- | --- | --- | --- |
| Assessor | Estimates the values of entire neighborhoods of homes | $51,860 | Individual states set minimum requirements |
| Tax Examiner | Checks tax returns for accuracy | $51,430 | Bachelor's Degree |
| Auditor | Checks an organization's financial records for signs of mismanagement | $67,190 | Bachelor's Degree |
| Cost Estimator | Figures out the approximate cost of completing a project | $60,390 | Bachelor's Degree or Extensive Experience in Construction |
Sources:
Bureau of Labor Statistics, U.S. Department of Labor, Occupational Outlook Handbook, 2016-17 (visited June 7, 2016 ).
Employment and Training Administration, U.S. Department of Labor, O*NET Online (visited June 7, 2016).