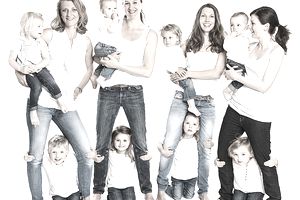 On top of having gorgeous professional photos to look back on, child modeling can be a great way to build your child's self-confidence and help them be more comfortable in social situations. If you've decided your adorable and photogenic child has a future in modeling, you have likely already conducted a lot of research about how to secure jobs for them and what to expect in the audition and go-see process.
Once your child has booked a modeling gig, you'll have even more questions about what to do next. Hopefully, you have a great modeling agent to guide you and ease your nerves about the whole process. Here are some answers to common questions parents of child models have about what to expect at photo shoots. 
Does Your Child Have What it Takes to Be a Child Model?
What Do I Bring?
A lot depends on the age of your child when it comes to what you need to bring to their photo shoots. Of course, if you have a baby or toddler, there will be a longer list of things to bring with you to keep your child happy, comfortable, clean, and well-fed. Perhaps your child has a favorite blanket or toy that can be used to calm them down or comfort them. These are great to have on hand if your child is fussy or bored. Many, but not all, shoots are catered. However, the younger your child is, the less likely there will be much that they would enjoy from a catered meal.
Bring your child's favorite snacks or treats so they have a full, happy tummy even if they don't like the catering options. Pick snacks that are easy to transport and won't make a big mess. If you have a baby, you likely already do this, but when your child of any age is at a photo shoot, it's a good idea to bring a change of clothes for them.
Baby Modeling: 6 Tips for Surviving an Infant Casting or Photo Shoot
How Involved Should I Be?
It's normal to feel protective of your child, and you have a very important role in guarding their best interests in all areas of their life. When they're at a modeling job, it can be hard not to share your opinions about their best angle or to give the photographer other advice. It's important to remember, though, that you're there as their parent, and not as a producer or creative director of the shoot. Let the professionals do the job that they're well-trained and experienced in doing, and you can sit back and enjoy watching your adorable child complete the job. Of course, if you feel like your child is in danger or you're uncomfortable with anything going on, it is your job to speak up and protect them. But when it comes to the creative and professional aspects of the job, don't get involved unless you're asked to or you risk your child losing out on future opportunities. 
How to Become a Pregnancy Model
Should I Sign Anything?
They differ depending on where you're from, but there are rules and guidelines you must adhere to when your child is modeling that are meant to protect their best interests.
Your agent will make sure you're aware of these, and you will already have signed some modeling contracts with them before you show up for your child's first shoot, including a release form. However, if you're at a photo shoot and the photographer asks you to sign their own model release form, you need to be very careful that what you're signing doesn't allow them to use your child's images in places other than what is specified for the job. Hopefully, your agent has already made you aware of this, but make sure you read anything you're asked to sign very carefully before doing so!