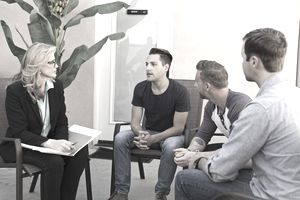 A mental health counselor helps people cope with emotional and mental disorders. His or her clients may have drug and alcohol addiction, marital and family problems, difficulties caused by aging or may be dealing with stress and anxiety. Some other job titles for this occupation include behavior analyst, behavior support specialist, mental health specialist and counselor.
Quick Facts About Mental Health Counselors
Approximately 135,000 people were employed in this field in 2014.
Some mental health counselors own private practices. Mental health centers, substance abuse treatment centers, hospitals and schools employ others.
Jobs are typically full time and often require working on evenings and weekends.
This is a "Bright Outlook" occupation according to the U.S. Bureau of Labor Statistics. It is classified as such because employment is expected to grow much faster than the average through 2024.
How to Become a Mental Health Counselor
To work as a mental health counselor, you must first earn a master's degree in a mental health-related field of study. Your options include clinical mental health counseling, psychology or social work. In addition to your coursework, you will also participate in clinical training. Many employers prefer to hire people who have earned their degree from a program that has been accredited by the Council for Accreditation of Counseling & Related Educational Programs (CACREP).
To practice as a mental health counselor, you will need to get a license from the state in which you want to work. In addition to your master's degree and clinical training, you will also have to pass a written examination. Many states require people to pass the National Counselor Examination for Licensure and Certification (NCE), a test administered by the National Board of Certified Counselors (NBCC).
It is a multiple choice exam that consists of 200 questions. You will also have to take continuing education courses to retain licensure.
Some mental health counselors choose to become certified. This is purely voluntary, but attaining this credential can make you a more competitive job candidate. The NBCC offers several designations. One can become a Nationally Certified Counselor (NCC) and then, if he or she chooses, apply for a specialty certification such as Certified Clinical Mental Health Counselor (CCMHC) and Master Addictions Counselor (MAC).
What Soft Skills Do You Need to Succeed in This Career?
Your classroom education, clinical training and even certification will only take you so far. The following soft skills, or personal qualities, are essential to your success in this occupation:
Active Listening: Excellent listening skills will allow you to understand what your clients are sharing with you and subsequently provide the help they need.
Verbal Communication: Your clients must be able to comprehend what you are saying to them so they can take recommended actions.
Interpersonal Skills: In addition to the ability to listen and speak well, you also need what are often called "people" skills. For example, you must be able to understand your clients' reactions and be able to persuade them to make necessary changes. You also need empathy and sympathy.
Service Orientation: To do this job, you must have a strong desire to help people.
Critical Thinking: To aid in your decision-making and problem solving, you must be able to identify and then evaluate possible solutions.
The Truth About This Job
Working as a mental health counselor can be very stressful.
Your patients, who are in distress, may become argumentative or even physically abusive.
You may need to respond to emergency situations when you aren't scheduled to work.
What Will Employers Expect From You?
Are you wondering what employers are looking for when they hire new mental health counselors? Here are some requirements from actual job announcements found on Indeed.com:
"Ability to make professional evaluations, decisions, and recommendation for treatment planning and implementation"
"Able to work independently and as a positive member of a team"
"Ability to establish and maintain effective working relationships with mentally or emotionally disabled persons and their families is a must"
"The successful candidate will be comfortable treating both routine and serious mental health illness"
"Knowledge of completing documentation not limited to: treatment plans, assessments and service authorizations"
"Computer literacy, including knowledge of Microsoft Office (Word, Excel, PowerPoint, Visio, Access) and familiarity with the internet and email communications"
Is This Occupation a Good Fit for You?
Related Occupations
|   | Description | Median Annual Wage (2014) | Minimum Required Education/Training |
| --- | --- | --- | --- |
| Marriage and Family Therapist | Treats clients who have emotional and mental problems, within the framework of family and marriage systems. | $48,040 | Master's Degree in Marriage and Family Therapy |
| Clinical Social Worker | Diagnose and treat mentally ill people or individuals with emotional and behavioral disorders. | $41,380 | Master's in Social Work |
| Career Counselor | Helps clients make decisions regarding their careers. | $53,370 | Master's Degree in Counseling |
| Rehabilitation Counselor | Help people who have disabilities live independently | $34,380 | Master's Degree in Rehabilitation Counseling |
Additional Sources:
Bureau of Labor Statistics, U.S. Department of Labor, Occupational Outlook Handbook, 2014-15 (visited January 23, 2016 ).
Employment and Training Administration, U.S. Department of Labor, O*NET Online (visited January 23, 2016).