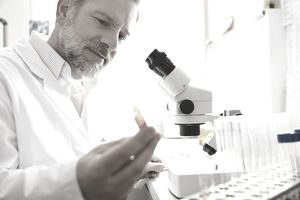 A medical laboratory technologist performs complex tests that help other healthcare professionals such as physicians detect, diagnose and treat diseases. One who works in a small lab typically performs a variety of tests, but an individual employed in a larger lab is more likely to specialize in a particular area. Examples of specialties include histotechnology and cytogenetic technology. Medical laboratory technologists are also known as laboratory technologists and medical laboratory scientists.
Quick Facts
In 2014, medical laboratory technologists earned a median annual salary of $59,430. They earned median hourly wages of $28.57.
Almost 165,000 people worked in this occupation in 2012.
Most had jobs in hospitals and diagnostic laboratories.
The job outlook for this occupation is excellent. Employment is expected to grow much faster than the average for all occupations through 2024.
How to Become a Medical Laboratory Technologist
If you want to work in this career, you will need to earn a bachelor's degree in medical laboratory science (MLS). You can search for a program that has been accredited by the National Accrediting Agency for Clinical Laboratory Sciences (NAACLS) on that organization's website: NAACLS Accredited and Approved Program Search.
Medical laboratory technologists need a license to practice in some states. The Licensed Occupations Tool from CareerOneStop can help you find out which ones do.
You can also contact the health department or state board of occupational licensing in the state in which you want to practice. Some states and many employers require professional certification. Examples of credentialing agencies include the American Society of Clinical Pathology (ASCP) Board of Certification and the American Society for Clinical Laboratory Science (ASCLS).
What Soft Skills Do You Need to Succeed in This Career?
In addition to the technical skills you will learn in school and an aptitude for science, you will need the following soft skills to succeed in this field:
Active Listening: Strong listening skills will allow you to communicate with medical personnel and patients.
Problem Solving: You must be able to identify problems and solutions.
Critical Thinking: This skill will allow you to determine your options when making decisions or solving problems, evaluate them and then choose the one that has the most promising outcome.
Attention to Detail: Precision is of the utmost importance when conducting testing procedures.
Reading Comprehension: You must be able to understand and follow physicians' written instructions.
The Truth About Being a Medical Laboratory Technologist
You will have to wear protective equipment and use procedures that mitigate your risk of coming into contact with infectious materials.
If you work in a hospital or other facility that is open 24/7 your work hours may include evenings, overnights, weekends and holidays.
Plan to spend a large part of your work day on your feet.
Differences Between a Laboratory Technologist and a Laboratory Technician
Medical laboratory technologist and laboratory technician are related occupations that people often confuse with one another.
They differ considerably in terms of educational preparation and, subsequently, job duties.  Because technologists must earn a bachelor's degree, they have a much more extensive theoretical knowledge base than technicians, who need only an associate degree. 
Technicians collect, process and analyze specimens. They perform lab procedures and maintain instruments. Medical laboratory technologists conduct the same procedures technicians do but also execute sophisticated analyses. They evaluate and interpret the results, conduct research and develop new methods (What is a Medical Laboratory Science Professional. ASCLS: The American Society for Clinical Laboratory Science).
What Will Employers Expect From You?
Here are some requirements from actual job announcements found on Indeed.com:
"Ability to work independently and as part of a team"
"Personal computer skills, including strong typing ability and proficient use of Microsoft Office"
"Must be self-motivated and able to prioritize work"
"Must be able to accommodate scheduling adjustments, off shifts, holiday, on-call, and weekend work assignments"
"Ability to communicate, consult and interact with other members of the healthcare team, external relations, customer service and patient education."
Is This Occupation a Good Fit for You?
Related Occupations
|   | Description | Median Annual Wage (2014) | Minimum Required Education/Training |
| --- | --- | --- | --- |
| Pathologist | Analyzes patient specimens to diagnose the presence of diseases | $187,200 | Doctorate degree or post-doctorate study |
| Radiologic Technologist | Conducts CT scans, x rays, MRIs and mammograms to help doctors diagnose illnesses and injuries | $55,870 | Associate degree in radiography |
| Phlebotomist | Draws patients' blood | $30,670 | Certificate or diploma from one-year postsecondary phlebotomy training program |
| Nuclear Medicine Technologist | Uses PET and SPECT scans to help doctors diagnose diseases | $72,100 | Associate or bachelor's degree, or 12-month certificate in nuclear medicine technology |
Sources:
Bureau of Labor Statistics, U.S. Department of Labor, Occupational Outlook Handbook, 2016-17 (visited January 7, 2016).
Employment and Training Administration, U.S. Department of Labor, O*NET Online (visited January 7, 2016).