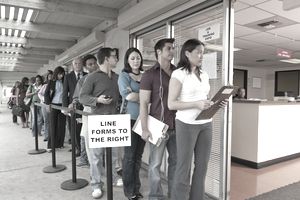 Dislocated workers are individuals who have lost their job due to a layoff. Also known as displaced workers, they are generally perceived as experiencing a job loss due to circumstances beyond their control. Workers who are terminated from employment due to unsatisfactory job performance are not considered displaced workers.
Definition of a Dislocated Worker
According to the Department of Labor, a worker is considered dislocated if he or she meets one of the following criteria:
Has been laid off or received a layoff notice from a job, or receives unemployment benefits as a result of being laid off and is unlikely to return to a previous occupation.
Was self-employed but is now without work due to economic conditions or natural disaster.
Is the spouse of an active duty member of the Armed Forces and lost employment as a result of relocating because of a permanent duty station change.
Is the spouse of an active duty member of the Armed Forces, is unemployed or underemployed, and finding difficulty in obtaining or upgrading employment.
Is a displaced homemaker--someone who was taking care of a family without pay such as a stay-at-home mother or father, is no longer supported by their spouse, is unemployed or underemployed, and can't find or upgrade their employment.
Reasons for Worker Displacement
Economic Downturn
A common reason for the displacement of workers is a downturn in the general economy that reduces overall demand for products or services.
In some cases, the impetus is a downturn in a particular industry, such as the newspaper business, which is based on economic or technological trends.  
Mergers and Acquisitions
Some employees are laid off due to the duplication of jobs when mergers or acquisitions are carried out. Other workers are displaced due to automation or other workplace trends that reduce demand for their particular skills.
Company Closings
Layoffs can occur when a company moving to a new location or closes a facility where a worker was employed. Foreign competition or outsourcing in areas like computer programming is also a factor impacting the displacement of workers.  
Unemployment Benefits
Employees who lose their jobs through no fault of their own may be eligible for unemployment benefits. Here's information on qualifying and filing for unemployment compensation.
Programs for Dislocated Workers
The federal government funds dislocated worker programs that are administered by state employment offices. These programs provide displaced workers with job search support and training opportunities to retool their skills. 
How to Explain Your Unemployment Status
Dislocated workers should convey the circumstances underlying their unemployment in their job search communications. Make a clear statement on your resume, cover letter, applications and during your interview that indicates why you were displaced.  
For example, you might say, "My position was eliminated when my department's function was outsourced. Evaluations and recommendations indicate that my performance was excellent." Provide recommendations or letters of introduction to employers to counteract any assumptions that you were terminated for cause.
Examples of Dislocated Workers
After a plant shuts down, hundreds of displaced workers were without jobs.
A merger resulted in massive layoffs and generated over 500 dislocated workers.
An assembly line worker was displaced when his function was automated. 
A purchasing coordinator was laid off when the role was outsourced to a contract firm. 
Related Articles
Dislocated Worker Programs
FAQs About Termination From Employment