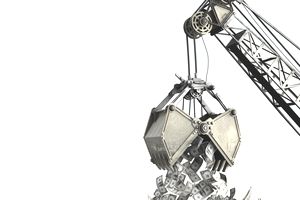 President Obama signed into law a measure that authorizes the disbursement of $305 billion over the next five years to aid the transportation sector. This is the first legislation for transportation since 2005. It is designed to help grow highway, railroad, and transit programs throughout the United Sates. If you decide to read it, you had better have some time on your hands. The document is more than 1,300 pages worth of mind-numbing details.
The bill falls short of the requested $400 billion sought, but there is still plenty of money out there to be made. What it means for the construction industry is simple: Every state is going to need qualified construction contractors to bid on jobs. There won't be any shortage of them, so what can your company do to get a piece of the action? 
Getting Your Piece
The first and most important thing you can do is act quickly. Do not delay in researching projects or placing bids. 
Once you decide to put a bid on a job, start doing some research. Learn all you can about prospective projects—what the scope of each one is and what the various states or governing bodies are willing to pay. Find out exactly what they want and make sure all the relevant details are included in your bid. Don't forget any relevant details, because once you place your bid, that's it. If you forget something major it makes you look inefficient and shows a lack of attention to detail.
It can also look like you're withholding intentionally to ask for increases later on. 
Is Your Company Up to Scale?
Major construction projects in transportation can carry price tags in the billions. They also often require a large workforce to get the job done. Some of these projects will require companies to have hundreds or even thousands of workers already trained and available to ensure that the project gets done on time and within budget.
You will also need to have access to and be using the latest construction management software, particularly contract management software. Many states will consider this to be a vital part of the smooth operation of their projects, and will expect everyone on your team to understand their part in using it. 
Implementing Construction Management Software
All construction projects are time-sensitive, but the implementation of construction management software solutions can take a lot of the stress and worry out of the equation. Good software solutions improve collaborative efforts among teams and team members and shorten the time needed to approve or close change orders, submittals, and RFIs. 
The right software can also help you reduce the amount of time that it takes to manage all of your teams, and provides a powerful mode of communication. Being able to show that you are capable of keeping your entire team on the same page and collaborate in real time and operate the entire project from a single central location will go a long way. It helps you keep tighter schedules and allows workflow to continue unabated. These things will all help your bid stand out. 
Effective Communications Structure
You also need to be able to show that your subcontractors are on the same page as your employees, and able to maintain the same levels of communication.
This is an area where too many companies fall short, leaving subs with sub-par communication and little guidance. All documentation needs to be current and when revisions are made, everyone needs to know at the same time, including your subs. Showing that your company has the ability to do that and has a record of doing it will work tremendously in your favor.