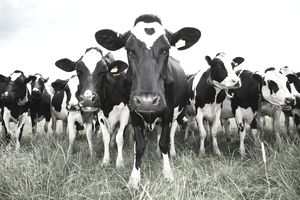 What Goes in Your Organic Pasture Management Plan?
As an organic ruminant livestock producer, your organic system plan (OSP) must include a section devoted to your specific pasture management plans.
Overall, the first goal of the pasture management plan is to get you thinking about organic livestock rules and policy and help you figure out how to meet National Organic Program (NOP) standards. The plan benefits you, in that it helps you draw a map of sorts to follow as you operate.
In general, the pasture management plan will clearly document the livestock practices you'll be using within your operation because there's no certification without a plan. You'll need to provide your OSP, along with the pasture plan to your organic certifying agent before you can become certified organic.
Ongoing benefits of a well-thought-out plan include better pasture productivity and results in quality forage throughout the grazing season. Plus, a good plan can improve your overall pasture utilization.
Your pasture management plan needs to document all your management practices, but it doesn't need to be overly complex. Below are the key areas that NOP requires you cover within your pasture management plan.
Description of your pasture: Document various plant species, the size of your pasture, the general habitat, perennial pastures, annual pastures and so on.
Pasture quality: Document the management practices you have in place that helps maintain pasture quality and at least 30% dry matter intake (DMI) from grazing.
Grazing season: Document the time of year and length of your grazing season.
Grazing system: Describe what sort of system you'll use for grazing, for example rotational, intensive, high-density or rest-rotation.
General site information: This included documenting locations and types of fences, shade, structures, ponds and other bodies of water.
Healthy soil: You'll need to include a good soil fertility plan that stands up to livestock grazing.
Seeding: Document how various forages and forage crops are seeded.
Erosion control: Erosion is a serious matter, so you'll need to describe the practices you have planned to help protect both soil and water quality.
If you're looking for some helpful resources and templates that may help as you write your pasture management plan, talk to your organic certifying agent or check out the following links:
Various Online Grazing and Pasture Management Resources