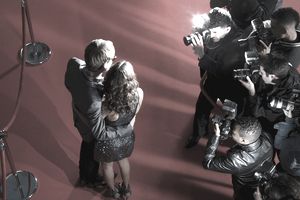 America is mourning a loss. It's the kind we get very emotional about. One that goes to the heart of who we are as a people. Yes, from time to time we have to come to terms with a high-profile celebrity divorce. And in September 2016, when the fabled Brangelina — Brad Pitt and Angelina Jolie — split, many hearts shattered around the world.
One upside to our obsession with celebrity is that we can learn lessons from the ups and downs of the stars' lives.
The Brangelina break-up, after 10 years together and two of actual marriage, offers some insight into divorce that applies to all of us.
5 Money Lessons You Can Learn From This Famous Divorce
These  lessons were written before the final details of the divorce were known. Nevertheless, they are lessons we can all learn.
Alimony: Jolie, who reportedly has a lower net worth than Pitt, is not seeking alimony, or "spousal support" payments. If she did, Pitt would be required to pay Jolie enough to cover the "reasonable" costs of maintaining the standard of living she and Pitt enjoyed as a couple. Alimony is treated as taxable income to the recipient. The payer can deduct it from his/her taxes, even if they don't itemize their deductions.
Division of property: Pitt and Jolie will need to decide how to divvy up everything from the rare artwork to that old sofa in the playroom to any joint accounts they may hold. Unlike most divorcing couples, most of this is likely addressed in the couple's prenuptial agreement. According to reports, the Brangelina prenup says each party will leave the marriage with the assets they brought. Any income earned as a couple will be placed in a trust for their six kids.
Tax status: In most states, your tax filing status is determined by your marital status on the last day of the tax year. So, Pitt and Jolie will be filing their 2015 taxes as individuals.
Engagement ring: Jolie gets to keep her $250,000 engagement ring. Most states view an engagement ring as a promise to marry. If the wedding is called off, the ring goes back to the giver. But if the wedding bells do chime, the ring stays with the recipient permanently.
Child support: Jolie is asking for physical custody of the kids. If that happens, she may ask for child support. If granted, Pitt's obligation will be calculated by the California courts using the same formula applied to all divorcing couples. Child support is tax neutral, meaning it is neither taxable nor deductible.
Divorce is a sad and stressful time in which people who no longer get along are asked to make important, complicated decisions about money and children. If you're facing this sad situation, make sure you get best professional advice and commit yourself to making rational decisions free of the emotions swirling around your head and heart.
8 Tips to Consider
Should you find yourself in a divorce, consider these 8 money-related tips:
Get advice from an honest, respected lawyer. You can't make a fair deal with your spouse unless you know what the law provides. If you don't care about the law, or you don't want to bother taking the time or spend the money to understand your legal rights and responsibilities, then getting a fair deal will be a crap shoot. 
Know your finances inside and out. Make sure you have current copies of all of your important financial documents.  
Know what you owe, to whom, and the terms of the debt. Run your credit report.  
Understand how to make and follow a budget. It doesn't matter whether you have never paid a bill in your life. You no longer have the luxury of ignorance. 
Get financial help. You may also want to consult with a financial planner, or a certified divorce financial planner. If you have to, pay them to educate you.    
Learn your tax obligations before you incur them. Understand the tax consequences of your property division. The same thing is true about support.  
Be smart —​​ negotiate with your head, not your heart. Making decisions out of guilt will cause you to give away too much. Making decisions out of anger will make you insist on getting too much.  
Don't give in just to be done. Divorce is a marathon, not a sprint. Decisions made from exhaustion are usually just as bad as decisions made out of anger or guilt.