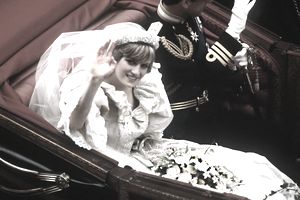 When Diana, Princess of Wales died in a car crash on that warm night in Paris on August 31, 1997, she was all of 36 years old. The princess had been divorced from her first and only husband, Prince Charles, for exactly one year and three days and left behind two young sons, William Arthur Philip Louis, known as Prince William, who was born on June 21, 1982, and Henry Charles Albert David, known as Prince Harry, who was born on September 15, 1984.
Beneficiaries of Princess Diana's 1993 Will and 1996 Codicil
Young Princess Diana's estate, consisting of stocks and other investments, cash from her £17 million divorce settlement, and jewelry, dresses, and other personal belongings, was valued at approximately £21 million as of her date of death, which netted her heirs nearly £13 million after taxes. But who in fact were those heirs?
Of course, a woman of Princess Diana's stature left behind a last will and testament which she had signed on June 1, 1993, and then modified by a first and only codicil on February 1, 1996. These documents left the princess's estate in equal shares to her young sons in trust until each reached the age of 25, with her mother, Frances Ruth Shand Kydd, and her sister, Lady Elizabeth Sarah Lavinia McCorquodale, acting as co-executors and co-trustees. (Note that the short first codicil simply changed the executors and trustees from her mother and her personal secretary, Commander Patrick Desmond Christian Jermy Jephson, to her mother and her sister.)
Variation Order of December 1997
Apparently, Princess Diana's mother and sister didn't like the provisions of the will because in December 1997, only a few months after the princess's death, the co-executors were able to obtain a secret variation order from the High Court of Justice.
Under the terms of "The Arrangement" approved by the High Court, Princess Diana's estate ended up being distributed as follows:
Specific Bequest of Cash. The sum of £50,000 was left to Princess Diana's butler, Paul Burrell.
Specific Bequest of Chattels. Certain "chattels" (what are known as "personal effects" in the U.S.) were left to Princess Diana's 17 godchildren.
The Discretionary Fund. A "Discretionary Fund" was established for the benefit of Prince William, Prince Harry, their respective future descendants and spouses, and charities as selected by the co-trustees. The Discretionary Fund received the following assets of the estate: intellectual property rights, all wearing apparel, £100,000, and accumulated income earned by the fund's assets. The Discretionary Fund is to be held for the "Perpetuity Period," which is defined as 21 years after the death of the last surviving descendant of his late Majesty King George VI living on the date of Princess Diana's death. (King George VI was the father of Queen Elizabeth II, grandfather of Prince Charles, great-grandfather of Prince William and Prince Harry, and the subject of the 2010 movie, The King's Speech.) During the Perpetuity Period, the income from the fund is to be distributed among the beneficiaries noted above as the trustees see fit. Upon expiration of the Perpetuity Period, anything left in the fund will go to the then living descendants of Prince William and Prince Harry.
The Residuary Estate. The balance of the estate referred to as the "Residuary Estate," was left in equal shares to Prince William and Prince Harry, with the shares being held in trust until each prince reaches the age of 30. However, when each prince turned 25, he was given access to all of the income from his trust as well as the power to change the final disposition of his trust if anything remains at the time of his death. Now that both Prince William and Prince Harry have reached the age of 30 (Prince William turned 30 on June 21, 2012, and Prince Harry turned 30 on September 15, 2014), they each inherited their share of the Residuary Estate outright and free of further trust. It is estimated that at the time of each prince's 30th birthday, their shares of the Residuary Estate were worth £10 million each, or about $16 million U.S. dollars.
Sources