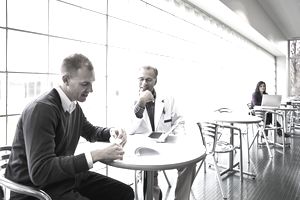 A sales representative sells products on behalf of a manufacturer or wholesaler. He or she may work directly for that company or for an independent sales agency whose clients are manufacturers and wholesalers.
A sales representative demonstrates products to customers, showing them how they will increase their sales and decrease their costs. An inside rep works in an office while an outside rep travels to clients.
 He or she may also be called an account executive, account manager or salesperson.
Quick Facts
Sales representatives earned a median annual salary of $55,020 in 2014.
Many people in this field earn a combination of salary and commission. Commission is usually a percentage of sales.
In 2014, almost 1.5 million people worked in this field.
Sales agents and brokers, or manufacturers employed most of them.
This occupation has a good job outlook. The U.S. Bureau of Labor Statistics predicts it will grow about as fast as the average for all occupations through 2024.
A Day in a Sales Representative's Life
If you become a sales representative, what can you expect to do each day? We looked at some online ads on Indeed.com to answer this question:
"Sell to key retail accounts and develop relationships at store level"
"Plan daily activities, and provide daily recap of results and accomplishments to management team"
"Contact new and existing customers to meet and exceed sales objectives"
"Deliver exceptional customer service"
"Organize, rotate and stock shelves during each store visit"
"Participate in sales meetings, on-site training, and remain educated in company policy and industry trends and developments"
"Negotiate and use persuasion skills to overcome objections"
"Effectively deliver presentations to callers"
How to Become a Sales Representative
Although this occupation doesn't have any formal educational requirements, some employers prefer to hire job candidates who have earned a bachelor's degree. Many people working in this occupation have majored in marketing. Those selling technical and scientific products often need a degree that is related to the product they sell. Some employers provide formal training programs for their new hires.
What Soft Skills Do You Need to Succeed in This Career?
To succeed as a sales representative, you must have certain soft skills or personal qualities.
Listening Skills: The ability to listen well and understand others allows you to respond to your customers' needs and wants.
Verbal Communication Skills: You must be able to provide information about the products you are selling.
Interpersonal Skills: In addition to excellent listening and speaking skills, you must be able to understand non-verbal cues as well as negotiate with and persuade your customers.
Critical Thinking Skills: When you have to make a decision or solve a problem, the ability to weigh all your options and choose the best one is critical.
Customer Service: You must respond to your customers' questions, concerns and complaints.
What Will Employers Expect From You?
Here are some requirements from actual job announcements found on Indeed.com:
"Strong communication, organization skills, and customer follow up"
"Ability to conduct physical work, frequently lift 15 lbs and occasionally up to 50 lbs"
"Outstanding telephone and customer service etiquette skills"
"Naturally persuasive with some leadership potential mixed in"
"Ability to travel"
Is This Occupation a Good Fit for You?
Related Occupations
|   | Description | Median Annual Wage (2014) | Minimum Required Education/Training |
| --- | --- | --- | --- |
| Retail Salesperson | Sells products directly to consumers | $21,390 | HS or equivalency diploma |
| Stock Trader | Buys and sells stocks for investors | $72,070 | Bachelor's degree |
| Insurance Agent | Helps clients select insurance policies | $47,860 | Bachelor's degree |
| Real Estate Broker | Helps people sell or rent properties | $57,360 | HS or equivalency diploma; state-approved courses |
Sources:
Bureau of Labor Statistics, U.S. Department of Labor, Occupational Outlook Handbook, 2016-17 (visited January 19, 2016).
Employment and Training Administration, U.S. Department of Labor, O*NET Online (visited January 19, 2016).